6 Surprising Things I Learned At LA's Annual Beautycon Festival
Owen Kolasinski/BFA.com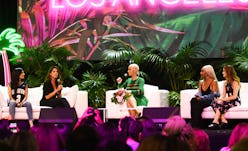 I first heard of Beautycon a few years ago as a college student, after some friends purchased tickets for the event in NYC. At the time, all I knew was that it involved an expo center filled with beauty brands displaying all the makeup and talking you up on how to use them. I'll admit, I had no plans of being a beauty editor back then and wasn't really that interested in makeup at all—hard to believe, I know.
Fast-forward a few years, and here I am with a media pass to cover the fifth Beautycon festival in Los Angeles. This time around, I'm both nervous and excited as I have a better idea of the magnitude of the event and feel a certain level of responsibility to bring my A-game (now that I've grown into a walking encyclopedia of all things hair and makeup). What I thought was going to be a convention center filled with makeup fanatics with fully contoured faces running around turned out to be so much more … and in the best way possible. Here, what I learned at Beautycon and how it ended up being a tremendously uplifting weekend as a beauty editor.
It's Not All About Makeup
Upon entering the Beautycon venue, attendees were met with a sea of booths filled to the brim with the latest and greatest beauty products—but that's not the only thing this convention is about. There was also a steady stream of panels featuring moderators and speakers like Laverne Cox, Chrissy Teigen and Amber Rose. They tackled hard-hitting topics including beauty standards, slut-shaming, plus-size modeling, diversity in beauty and a lot more. So attendees got more than just the scoop on the hottest lipstick shades for fall.
I'm A Sucker For Celebrity Sightings
Much of my time at Beautycon was spent on the pink carpet grabbing interviews and images for our social feeds, so I basically had a front-row seat to all the celeb action. In addition to the famous panelists mentioned above, amongst the crowds were Adriana Lima, Zendaya, Tyra Banks, Simone Biles, Jaden Smith, Yara Shahidi, Tracee Ellis Ross and Kelly Rowland. Even though I live in the City of Stars, I definitely fangirled a bit. Who wouldn't?
Social Media Has Given Us A Voice...
During her panel with moderator Joe Zee, Laverne Cox spoke openly about transgender rights and their state in our current political climate. She explained how the transgender community is more visible because of social media and how it has allowed their voices to be more elevated. "We're able to talk back in a way that we have not been able to before, but we need more allies to come on board to say these lives matter," she said. Amen.
...But It's Also Given Us A Complex
While we can't deny the power of social media, sometimes that force isn't positive. The always-honest Chrissy Teigen made a surprising revelation over the weekend, revealing that social media has messed with her self-esteem. The extremely vocal supermodel explained that she feels "instantly inadequate" after learning how much Facetuning and Photoshopping can go into making a hit Instagram photo. She told the crowd, "There have been times I've cried to John because I would just never have that body. You know, everyone has a butt now, everyone has curves and a little waist, and that's not me." But of course, the best and most refreshing way to deal with our so-called flaws is to grow to love them—and to love them on one another. "I've been on shoots, I've been naked-to-naked with people, and I will say that everyone has a stretch mark. Every time I see that other stretch mark I'm like, Girl, yes! It makes me feel better and if more of us did that kind of sh*t, how many more people would feel better?" she said.
Influencers Are The New Pop Stars
If you've yet to experience influencer fandom, Beautycon is the place to see it in full effect. To the thousands of people who purchased tickets for this weekend, plenty of these self-made social media phenomenons are idols. From the extensive meet-and-greet lines to the endless brand meetings, these YouTube and Insta personalities were at pop-star status. And why not? These days, they're the new trusted five-star review as well as the new celebrity.
Makeup Is A Power Symbol
Despite the various conversations and activities, Beautycon does still come down to makeup. Why? Simply put, it's fun and makes people feel good and powerful in their own skin. This weekend taught me that people have been able to build careers out of a single mascara or five-minute tutorial, which is so, so fascinating. They've been able to formulate a product or provide instructions that have helped others feel beautiful—and not many people can say that.