Beautyblender's New Product Makes It So Easy To Create A Cat Eye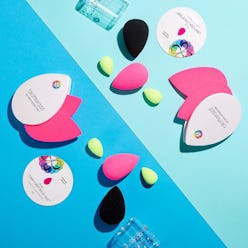 If attempting to create a straight—and not to mention symmetrical—cat eye quickly becomes infuriating to the point of tears, chances are you're on board with a product that promises the perfect flick every time. Beautyblender reached fan-favorite status after their signature makeup sponge hit the market and they didn't disappoint with the launch of Blotterazzi, their innovative, reusable blotting sheets. The newest addition to their line is just as genius but a lot less spongy.
The Liner Designer is a triangle-shaped gadget that offers different application techniques to help you instantly step up your wing game with your favorite pencil, gel or liquid liner. Paint your liner directly onto the flexible disk and drag it across your eye to get your desired effect. The shortest, curved side makes it simple to create a classic and subtle flick, while the longer, straight edge enables you to effortlessly create a more dramatic and elongated angle. You can also line the lower lash line with the long, curved part. And in the interest of being extra resourceful, you can use it as a mascara or eye shadow shield and even use it to make your lip liner look sharper than ever before. It's like a triple threat.
Beautyblender Liner Designer will be available for $18 at Sephora and beautyblender.com this spring.
@beautyblender