How To Get 2017's Hottest Beauty Looks Without Spending A Cent
Matteo Scarpellini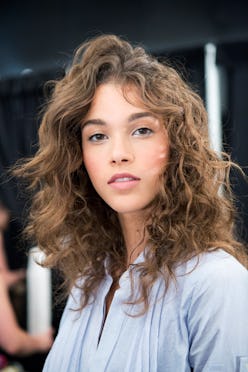 A new year can only mean one thing: a slew of amazing new hair and makeup looks you're dying to test-drive immediately. But which items from this year's beauty arsenal should you ditch or hang onto in the process? Here, we show you how to use the best products of 2016 to get the best looks of 2017. Recycling has never been chicer.
Glossy Lips
Give 2016's matte liquid lipstick new life by blending it with lip balm. Bonus: Swipe it on your cheeks to add some color to your complexion.
Natural-Looking Makeup
For a subtle look next year, keep foundation light, and instead of chiseling your face with dark cream and powder contour products, add subtle highlights with balm or oil. Use last year's dark shades to fill in your brows.
Natural Texture
Pin-straight hair has had its time in the spotlight, but texture is in for 2017. Go with your natural waves or use your flat iron to create them if you need to fake it.
Bushy Brows
Stop with the over-plucking. Sure, some cleaning up is necessary, but bold brows are back in a big way, so let them grow out. Save your brow-appointment fund for something else.
Bright Eye Shadow
While we would never tell you to throw out your neutral shadows, colorful lids will have a major moment next year, so keep your palette in play and give the brighter shades their moment in the spotlight. Whether you're feeling blue or craving coral, any hue goes, especially for a night out.