10 Beauty Products Every Girl Needs In Her 30s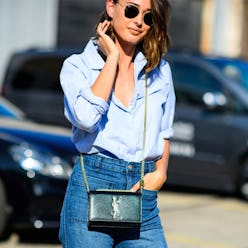 News flash: 30 is the new 20. But even so, we need to keep ourselves looking fresh and fabulous at every age, so we got to thinking about the staples every beauty junkie should own once she hits her third decade. Here, 10 beauty products to stock up on STAT.
Photo: Adam Katz Sinding
1. Classic Red Lipstick
Choose one that works with your skin tone and wear it day and night.
2. Day And Night Cream
Ditch your do-it-all moisturizer and pick one for day and a separate one for night.
3. Everyday Sunscreen
Sun damage is a no-no at any age, but now's the time for you to get serious about applying it every day.
4. Signature Scent
Get noticed (and be remembered) for the perfume you wear.
5. Neck Cream
You can always tell a woman's age by looking at her neck–consider this your fountain of youth.
6. Nourishing Hair Mask
As we age, our hair becomes brittle and dry. Apply a deep-conditioning hair mask once a week to keep hair healthy.
7. Must-Have Blurring Cream
Use this alone or under makeup to blur fine lines and pores and to fix uneven skin tone–it just doesn't get better than this.
8. Perfect Nude Nail Polish
It's not that you can't wear bright colors on occasion, but generally it's best to choose a shade both sophisticated and understated.
9. Eye Patches
Whether it's work, play or kids, we all have reasons for staying up late–throw on some eye patches, and it will be like it never happened.
10. Antiaging Gadget
While we don't recommend surgery to look younger, this gadget gives you a mini face-lift without going under the knife.