This Is The Beauty Product You Need According To Your Sign
Ivan Lattuada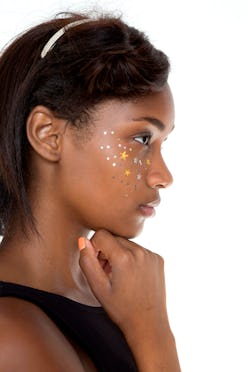 It's a new month, signifying a new opportunity to switch things up in your beauty routine. Whether you're a Gemini with an active imagination or a Taurus with a love for aesthetics, we think you'll appreciate knowing what's in store for you this November. Here, this month's horoscope and the beauty products you should get your hands on stat. We promise you'll be looking your most gorgeous all fall—it's written in the stars.
Beauty By Astrology
Scorpio
Happy birthday! What better way to celebrate another year than with a statement-making glitter eye shadow? Cover the entire lid from lash line to brow bone, or add a touch on the inner corners. Either way, a hint of sparkle in your beauty wardrobe will make you the center of attention when you deserve it the most.
Sagittarius
You're being pulled in so many directions right now. Whether you're balancing your family life, relationships or career, knowing how to unwind will keep you sane this month. Incorporate aromatherapy into your routine and take a few moments to unplug throughout the day.
Capricorn
Your love life is having a moment. Whether you can feel a friendship evolving into something more romantic, or a recent run-in with an ex has you living a blast from the past, a red lipstick will ensure you are your most confident all month long. After all, that is the sexiest thing a woman can wear.
Aquarius
Things are fabulous at work right now. But of course, the hustle can come with its fair share of under-eye circles. Our advice: Load up on coffee and a good concealer.
Pisces
Your spirit has been feeling rather lackluster lately, but don't worry, this funk you're in will pass. What better way to feel a glow from the outside in than with a really good highlighter? Apply it to the cheekbones, cupid's bow, bridge of the nose and brow bone for a glow everyone is sure to notice.
Aries
Our dear Aries, you are a creature of habit. This fall, step away from your comfort zone and try an out-of-the-box eyeliner. Whether it's a sparkly cat eye or a colorful waterline, an element of surprise will get you noticed in the best way.
Taurus
Travel is in your near future. Whether you're planning a trip abroad or a weekend staycation at a local resort, packing your favorite skincare products in travel-friendly sizes will help you stay on track with your regimen.
Gemini
You're already extra conscious about what you put in your body. This month, be just as diligent with what you put on your body. A natural foundation is the perfect place to start.
Cancer
You've been thinking of stepping into the spotlight more and more lately. We have just the thing for you: a vampy lip sure to catch the eye of everyone in the room. Pair with natural-looking skin and a simple cat eye.
Leo
Your homebody side is more dominant than ever, and that's okay. Take advantage of the chilly weather, grab a face mask and binge-watch your favorite show. Your skin will thank you.
Virgo
Your romantic life is booming right now. If you don't already have a signature fragrance, get one. He (or she) will remember you for it.
Libra
It's time to loosen the purse strings, because your bank account is looking good this month. Whether you've been saving more than usual or are due for a raise, you're in a position to splurge on a pricey beauty product. Go ahead, you deserve it.
Stay On Trend All Year Long
Discover Box of Style featuring the season's most coveted fashion, beauty and lifestyle items for only $100 per quarter.