What Beauty Editors Always Buy At Sephora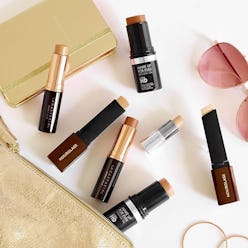 Beauty editors are constantly trying the latest and greatest products on the market. With so much access to the best in skincare, hair and makeup, what do they buy when they walk into a Sephora? We polled our friends from WWD, Refinery29, Byrdie, Popsugar and more for a peek into their well-informed beauty routines. See what they keep stocked at all times.
"In my teens and early twenties, I must have tried every concealer available at my local drugstore. I never found one that matched my skin perfectly and stayed put. When I got older and had a bit more cash to spend on makeup, I ventured into Sephora and plunked down $20 for Benefit Cosmetics' Boi-ing Industrial-Strength Full-Coverage Concealer in the light shade 1. I had finally stumbled on the concealer I always wanted, and it's been my go-to product for years. It's compact, the ideal blending consistency, pairs well with my ghostly pallor and lasts. Although I've sampled countless other concealers since my first Boi-ing buy, nothing has bested it yet."
—Rachel Brown, West Coast Beauty Editor, WWD
"I am obsessed with this moisturizer and I've gotten my boyfriend hooked, too. It smells lovely, it literally makes my skin brighter and I joke you could bounce a dime off my face after I use it because it makes my skin the most hydrated it's ever been. I even buy the minis and keep them everywhere; my purse, the office and my gym bag."
—Kirbie Johnson, Beauty Reporter, POPSUGAR Beauty
"If there's one lip product I could use forever, it would be Dior lip glow. It goes on like a balm and gives your lips a flattering and youthful flush in the prettiest petal pink hue. It's my go-to every season of the year, and perfect for all except the most formal of occasions. Since I'm so in love with this product, it's no surprise that I go through a tube every couple months. It's actually the only product that I regularly buy at Sephora."
—Carolyn Hsu, Site Director, NewBeauty Magazine
"Ever since its debut, Elizabeth & James' Nirvana White fragrance has been my go-to perfume. I can't get enough of it. It's got notes of peony, muguet and musk and delivers a really soft, clean and feminine scent. No matter how many times I try to mix it up with other fragrances, I always find myself coming back to this Mary-Kate & Ashley-made product."
—Sara Tan, West Coast Fashion & Beauty Editor, Bustle
"The Drybar Detox Dry Shampoo has literally has been my ride-or-die dry shampoo since high school (and is one of the only products I continue to buy, even as a beauty editor). It soaks up oil like gangbusters—I could have the grimiest, fifth-day hair imaginable and this stuff makes it look like I just exited an actual Drybar salon. But the best part of all is the smell: It's musky, floral and utterly hypnotic."
—Amanda Montell, Associate Features Editor, Byrdie
"Makeup artist Troy Surratt's entire line is gorgeous, from the simple, lightweight packaging to the long-wear formulas, but it's this lipstick that I have replaced more times than I care to admit. It's the most beautiful, vibrant red color I've found—one on which I constantly get compliments when I wear it. Plus, the matte formula stays on all day or night and never smudges or strays outside the lip line. My advice? Buy two."
—Lexy Lebsack, Senior Beauty Editor, Refinery29
"This cream landed on my desk one day and now I can't stop buying it. It's probably intended for your bum (hence the name), but I use it all over my body because it smells so good! It's especially nice in the winter because it's super thick and hydrating but soaks in right away. The coconut scent reminds me of being on the beach, which is also key when trying to make it through a NY winter."
—Brooke Shunatona, Associate Beauty Editor, Cosmopolitan.com
"These two Living Proof products give my hair life—even if it's two days overdue for a wash. The dry shampoo cleans while the volume spray creates invisible lift, and neither leaves behind any kind of residue. I pick up the mini versions whenever I'm traveling."
—Dawn Spinner Davis, Beauty Director, Total Beauty
"This is the only foundation I've ever found that matches my skin tone flawlessly. I also love that it's buildable, so I can wear it as a sheer base or aim for more coverage."
—Andrea Navarro, Associate Beauty Editor, The Zoe Report
"I will never leave Sephora without tacking a new Beauty Blender sponge onto my purchase. It literally makes every other product in my vanity look better on my face."
—Stephanie Montes, Senior Beauty Editor, The Zoe Report