9 Makeup Brushes Every Girl Should Own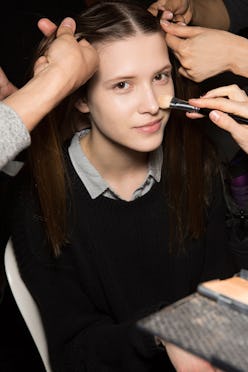 There are millions of makeup brushes on the market, but unless you have an unlimited budget and a vanity the size of a Sephora, you do not need to buy all of them. Here we share the 10 brushes every girl should own and provide a crash course for using each one. The best part? They're all multi-purpose which saves you money and space. Win-win.
Brush Up On Your Inventory
Foundation Brush
Use a dense, flat kabuki brush in circular motions to apply liquid or mineral foundation and create an airbrushed finish.
Double Duty: You can also apply bronzer along the hairline, jawline and hollows of the cheeks for a sun-kissed glow or subtle contour.
BeautyBlender
Dampen the sponge and use it to apply everything from liquid foundation to concealer in a bouncing motion. It's especially helpful for sensitive areas like under the eye and hard-to-reach ones like around the nose.
Double Duty: Soak the tip with makeup remover to clean up lipstick smudges or mascara blunders.
All-Over Eye Shadow Brush
Use this brush to sweep eye shadow across the entire lid for all-over color or to press on cream products.
Double Duty: Get the most use out of your brush by using it to apply concealer on blemishes and blend it out for an airbrushed finish.
Smudger Brush
This dense, short-haired brush is perfect for getting a precise eye shadow line in the crease or under the lower lash line.
Double Duty: Trace the lash line with a kohl liner and use this brush to smudge it for a sultry, smoky eye.
Fluffy Blending Brush
Use in small circular motions to soften harsh eye-shadow lines and create a soft, blended look.
Double Duty: Apply translucent powder on under-eye area to set concealer.
Angled Eyeliner Brush
Dip the soft, thin, angled brush in cream, gel or powder eyeliner to create a crisp cat eye.
Double Duty: Use with a lipstick for precise application.
Brow Brush And Spooley
Use the stiff, dense angled brush to fill in brows and the spooley to groom them in place.
Double Duty: Gently comb through lashes to separate clumps and remove excess mascara.
Fan Brush
Get a bright, dewy glow by lightly applying highlighter on your cheekbones, Cupid's bow and bridge of the nose with this feathery fan brush.
Double Duty: Dust away fallen eye shadow without removing your foundation.
Blush Brush
Give your complexion some color by applying your favorite blush with this fluffy brush.
Double Duty: Set liquid foundation by dusting on a translucent powder.