9 Amazing Beauty Products You've Never Heard Of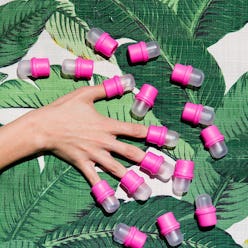 Sure, you can spell "exfoliation"—in Korean. You can cite the RPM of the Dyson hair-dryer. And when someone says she likes her Fetish with a touch of Orgasm? You know the statement is entirely PG. But friends, you do not know it all. And we're about to prove it. Our editors convinced beauty-world icons to tell us about the products that they didn't want to tell us about. Their secret weapons. Their holy grails. We guarantee you've never used these products before*—and now you'll never stop. *(And if you have: We're calling you next time.)
Refa S Carat Roller
Recommended by: Val Garland, makeup artist (@thevalgarland)
If a makeup rule exists, Garland is backstage breaking it. Lipstick gets smudged. Eyeliner gets blurry. And flowers are more likely to end up on the face than in the hair. But underneath all the creativity, Garland's real gift is perfecting skin—which is where this roller (that's it above) comes in. "I plunge it into ice or stick it in the fridge, and then just go up and down [on the face]," she says. "It feels like a facial, and it's a great way to depuff the skin—especially around the eyes. When I'm working on a celebrity or a nervous client, it's also a great way of making them feel relaxed."
$198 (refausa.com).
Kryolan Supracolor Palette
Recommended by: Diane Kendal, makeup artist (@diane.kendal)
Don't let Kendal's knack for neutrals fool you. She's as comfortable with cobalt as she is with taupe. Take the spring 2017 shows. Glossy Crayola eyes at Nina Ricci, canary ear makeup at Proenza Schouler, silver cheek paint at Tome: all Kendal. "I like playing up the eyes, but powders can drag or don't smudge right," she says. "These greasepaints are malleable and come in all different colors." To create those Nina Ricci eyes, Kendal used a brush to buff vivid blue and purple Kryolan creams into lustrous washes of color.
$43.75 (us.kryolan.com).
Pil'aten Suction Black Mask
Recommended by: Fulvia Farolfi, makeup artist (@fulviafarolfi)
Farolfi has worked with almost every ridiculously radiant single-name model out there: Gisele, Kendall, Imaan, Gigi. But this is the product behind her own glowing skin: "Once a week, I apply an even layer [of this mask] on my T-zone after a shower, making sure the edges are neat and not thin so it's easy to remove. When it's dry—in about 30 minutes—I peel off the mask in one quick motion. It helps smooth the skin and keep pores clean between facials."
$9.99 (www.pilaten-mask.com).
Cock Grease XXX Water Type Pomade
Recommended by: Sam McKnight, hairstylist (@sammcknight1)
McKnight has done the hair for big shows (Fendi, Chanel) and big names (Princess Diana, Lady Gaga). But we're most awed by his ability to make neon faux-fur extensions and braids woven with plastic bags somehow chic. One of his most trusted tools: "an old-fashioned petroleum jelly—I first saw it in Ricky's years ago," he says. "It weighs down hair and gets it really flat but doesn't dry hard. It's more malleable than a wax or a typical pomade but still supershiny. And unlike most pomades, it's water-soluble, so it washes out with shampoo."
$18.49 (jet.com).
Caruso Steam Setter Rollers
Recommended by: James Pecis, hairstylist (@jamespecis)
This tatted California cool guy is a former skateboarder turned punk rocker turned braid savant. He's created styles that involve sewing needles, gardening wire, and acid dye. Yet one of the go-tos in his kit is 100 percent old-school. "The first guy I ever assisted, Max Pinnell, always used these rollers," he says. "They heat with steam. You put water in the box, plug it in, then heat one roller at a time. The steam makes the hair really glossy and gives it waves that last."
$49.99 (ulta.com).
Butter Elixir Face Oil
Recommended by: Tom Pecheux, makeup artist (@tompecheux)
Pecheux could teach a class in seduction. Maybe that's because he's French. Or because he's known for what he calls "naughty black eyes" and lips that look as though they've been kissing. (Or both.) Either way, when he has a secret to glowing skin, we listen. "I love the smell [of this oil]," he says. "I love that it's oily but it doesn't feel like there's much left over on the skin after application. You know how when you put on oil, it's hard for it to absorb and for makeup to stick? This doesn't do that. I discovered it about a year ago and have been loyal ever since."
$48 (butterelixir.com).
Zodaca Nail Soakers
Recommended by: Tracylee, nail artist (@luxebytracylee)
Yes, she makes the nails of Cate Blanchett, Zosia Mamet, and Olivia Munn glossy and flawless. But it's the mirrored finishes and glittery cuticles Tracylee dreams up for the runway that we are all copying…or at least trying to copy. Her trick for nail-polish removal, though, we can totally manage: "I use these to soak off gels, acrylics, and temporary tips. They work faster and are cleaner than the cotton-and-foil method. Fill each pod with acetone and pop it on your finger. They cut the removal time in half."
$2.15 (amazon.com).
For all 9 secret beauty finds, check out the full article on Allure.