8 Beauty Tips We Learned Backstage From The Pros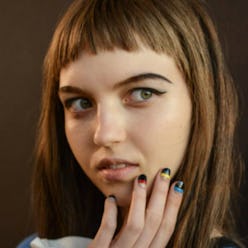 What's more thrilling than attending a fashion show? Going backstage beforehand to watch the it all come together. From the clothes, hair, and makeup, all the way down to the nails, it's incredible to see a full look come together. Especially because it's the greatest beauty experts who lead the beauty direction for some of the biggest fashion designers out there.
After hearing each artist, stylist, and specialist go in-depth about the work that went into the final looks, I realized I was collecting nugget after nugget of vaulable beauty knowledge. Whether it was a simple hack like using scotch tape to make nail art easier (more on that below) or treating lipstick as an all-over multistick for a flawless, monochromatic look, I now have an arsenal of beauty ideas to try out come spring. Or, let's be real, like, right now.
Pat blush over matte lipstick for a long-lasting look with dimension
Backstage at Creatures of the Wind, lead-makeup artist Mark Carrasquillo for NARS Cosmetics gave seven of the models a bold red lip that was super matte, inspired by PJ Harvey. Applying NARS Velvet Matte Lipstick Pencil in Dragon Girl first, he then layered a hot pink blush over the lip, giving the classic color a bit of a twist and a super-matte finish. He also ensures that this technique will make the matte lip last: "It won't move."
Another Tip Carrasquillo has for a long lasting lip? "Don't kiss!"
Create a subtle "summer smoky eye" using a brow pencil
Backstage at Jason Wu, lead artist Yadim for Maybelline used the Brow Drama Pomade Crayon around the eyes to create contour and definition with just a little bit of color, adding gloss over it (using Baby Lips Lip Balm) to make it a little sexier. "The look ends up being kind of like a summer version of a smoky eye," he said. "It's super light, very wearable-even for day-time but there's still a sultriness to it, a sexiness to it."
Use painted scotch tape to create striped nail art
Backstage at Opening Ceremony, nail artist Naomi Yusada for China Glaze created graphic nails inspired by the collection's various prints. However, we all know how hard it can be to draw a straight line (especially on your opposite hand), so Yusada suggests bringing scotch tape into the picture.
"It's so much easier this way!" she said. "First, you paint the scotch tape the color you want to use and let it dry. Once it's dry, you can cut it into small lines and press it into the nail- then, of course, finish with a topcoat.
Consider this the ultimate DIY nail tip.
Layer iridescent nail colors to create a holographic effect
Backstage at Zac Posen, nail artist Keri Blair for M.A.C. decided to create a nail look that had some serious dimension to it. Using two subtly iridescent shades (Liquid Pigment Top Coat in Pink Pearl and Green Pearl), she layered coats of each to create a high definition, holographic look.
"The Green Pearl is sort of trapped in between the two sandwiches of the Pink Pearl, so it gives a really beautiful dimensional, layered look to the nails," says Blair. "It's almost like a dragonfly wing."
You can (and should) wear lipstick on your eyes
For all 8 beauty tips, check out the full article here