5 Ways To Apply Foundation And How To Choose The Right Method For You
Alessandro Zeno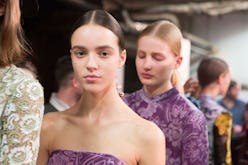 If there's anything we've learned from years of applying makeup, it's that there's no one way to do it. So when it comes to liquid foundation, we tend to experiment with different methods. Ahead, the five best ways to apply it for a) your skin type and b) the coverage you prefer. After all, if your foundation looks good, the rest of your makeup will too.
Rules Of Application
Stipple Brush
For an airbrushed finish, apply liquid foundation with a stipple brush in a light circular motion. If you end up with streaks, you're using too much pressure. Pro tip: This brush is best for normal to oily skin. It can cause micro-exfoliation, which makes foundation look cakey and uneven on dry skin.
Flat Foundation Brush
Ever tried a flat brush and ended up with streaks all over your face? You're forgetting a step. First, apply liquid foundation in downward strokes to the entire face, then use the flat side of the brush to pat the product in for an even finish.
Flat-Top Kabuki Brush
If you're looking for full coverage, this brush is your new go-to. Dispense foundation onto the back of your hand, then use the top of the brush to distribute evenly onto your face. In circular motions, buff the product into your skin. Caveat: This is another method that isn't great for dry skin (again, micro-exfoliation can work against you).
Fluffy Foundation Brush
For a natural finish, opt for a fluffy brush. Not only does it apply foundation lightly and evenly, it also works product into your skin faster. Use downward strokes for a smooth look.
Makeup Sponge
This one is great for all skin types, especially dry skin. You can achieve the most natural finish at any coverage level. First things first, make sure to wet and wring out your sponge before applying foundation in a bouncing motion. This will leave skin looking flawless.