5 Tricks That Help Your Makeup Last All Day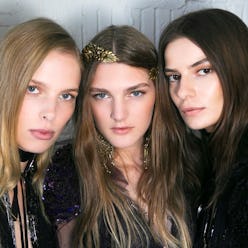 Whether you're too busy to reapply or you just don't feel like toting around your entire makeup stash, mid-day touchup sessions aren't always an option. Luckily, these 5 tricks help your makeup stay on all day so you don't have to worry about taking time out of your busy schedule to run to the powder room. Finally, a beauty look that works as hard as you do.
Makeup That Won't Break Up
Multimask Your Primers
Primers are not all one size fits all. If you have an oily T-zone, use a mattifying primer in this area, and a hydrating one on your cheeks if they get dry easily.
Wet Your Eye Shadows
Saturating your eye shadows with a water or primer spray will make the color more vibrant and help it last all day long. Now you won't have to worry about it creasing or flaking off.
Make Your Lip Liner Work Double Duty
Lip liner is meant to stop your lipstick from feathering so it naturally boast better staying power. Instead of just lining your lips before applying lipstick, fill them in completely with your liner. This makes your lipstick bulletproof.
Layer Shadow Over Eyeliner
Get that cat eye to stay in place all day when you use an angled eyeliner brush to go over your liner with a black shadow. This will set your liner and make it completely smudge proof.
Set Your Foundation Twice
By now, you already know that you should be setting your liquid foundations with a translucent powder. Setting your translucent powder with a long-lasting spray will ensure that your makeup stays put all day.