The Best Hair And Makeup Looks You Can Do In 5 Minutes Or Less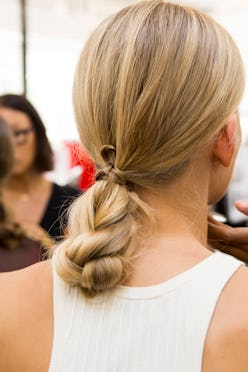 We've all been there: You wake up in a panic after hitting snooze so many times that you're already late. Once you're dressed, you literally have 10 minutes to do both your hair and makeup. Here, we've rounded up our favorite five-minute beauty looks that'll get you out the door without looking like you just rolled out of bed. Try these the next time you're in a hurry.
Hair: Wraparound Braid
Give everyday plaits a face-lift in less than five minutes. Pull hair into a low ponytail and braid to the ends. Fold the braid in half and secure with a thin elastic. Wrap a small section of hair around the base to hide the elastic.
Makeup: Colorful Eyeliner
There's nothing like a bright hue to put a pep in your step on an early morning. Keep skin clean and fresh and punch up your makeup look with a gorgeous green eyeliner on the outer corners of the lower lash. Finish with a coat of mascara.
Hair: Double Braids
A single braid can look basic. Instead, split the pony in half and create twins. Secure with thin elastics and smooth flyaways with a light hair spray.
Makeup: Berry Lips
Let your lips do the talking by playing up your pout with a berry-colored lipstick and keeping your skin clean and dewy. You won't even need a mirror to pat on color with your finger for a lived-in, feathered look. If you're really in a hurry, skip the mascara.
Hair: Sleek Bun
Never underestimate the power of polish, especially when time is of the essence. When in doubt, pull hair into a low, neat chignon.
Makeup: Metallic Cat Eye
Sure, you can do your go-to black liner, but a metallic cat eye adds an element of surprise and doesn't require tons of prep. A copper shade is perfect for any skin tone.