5 Ways To Be More Photogenic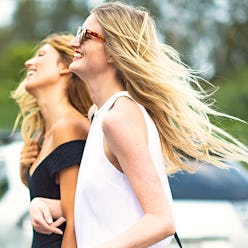 Sure your makeup looks good when you walk out the door, but when that flash goes on, you just can't seem to get an Instagram-worthy picture. We know we're not the only ones who have had those moments where our face doesn't match our body. Before you write yourself off as the least photogenic person in the room, these makeup tips keep you looking beautiful on and off camera–no filter needed.
Say Cheese
Photo: Adam Katz Sinding
Put Makeup On Your Ears
As weird as this sounds, always make sure to blend your primer and foundation onto your ears, especially if your hair is pulled back. Ears tend to look red in photos–not anymore!
Skip The Blush
Blush can make you look flushed (in a bad way), so opt for a bronzer to create a subtle contour. Instead of applying it on the apples of cheeks, swipe under the cheekbone and blend.
Wear A Darker Shade Of Foundation
There's nothing worse than seeing a photo of yourself where your face is lighter than your body. Avoid this by choosing a foundation in a slightly darker shade and blending it down your neck.
Say No To Sparkle
Shimmer doesn't read well on camera. Wearing metallic shadow can look like you have oily lids–same goes for dewy foundation. Always choose products that are matte and shimmer-free.
Highlight Your Features
Sometimes a camera flash can wash you out and not pick up all of your features. Give your face dimension by wearing a bold lip and filling in your brows.