How Not To Make The Biggest Makeup Mistake Ever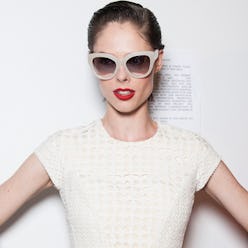 We love lipstick but getting it to stay on our lips and off our teeth is nothing short of a science. Here, 5 tried-and-true hacks for getting it to stay put all day. After all, your pearly whites should always stay well, white.
Photo: Courtesy of Zac Posen
Use Your Lip Liner As A Base
Don't just rim your pout with a lip liner. Instead, fill in your lips entirely to grip your lipstick in place.
Use A Brush To Apply It
Pack the pigment on by pressing it onto your lips rather than swiping over the surface.
Get Rid Of Excess Product
Place your index finger between pursed lips and pull it out. Any excess lipstick near the teeth area should remain on your finger.
Create A Barrier On Your Teeth
Apply a clear waxy balm on your front teeth to prevent lipstick transfer.
Set Your Lipstick
Place a sheet of tissue on the surface of your lips and dust translucent powder with a fluffy brush over the paper. Blot and you're good to go.