Unexpected Makeup Looks For Day And Night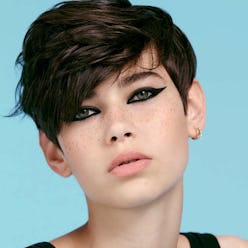 Rocking metallic lipstick in broad daylight and drawing fake freckles on your cheeks for a night out may seem a little far-fetched but trust us: you're going to love these bold makeup looks. We've teamed up with Topshop makeup artist, Hannah Murray to bring you two looks to wear during your daytime activities and for those nights out on the town. Get Hannah's simple makeup how-to's and our style tips for major head to toe impact.
Topshop Makeup Artist, Hannah Murray
"These unique, multi-faced looks will transform your appearance from ordinary to polished and perfected. I love a sophisticated array of boundary-pushing metallic lips and cheeks for day and endearing faux freckles paired with a dramatic eye for night."
Photo: Courtesy
Daytime Look: Metallic Muse
"Encapsulating the hottest beauty trend of the year, metallics give a youthful glow that will see you through summer and into fall. The iridescent particles catch the light and sculpt your face without the need for bronzers."
Begin with your go-to foundation routine. Keep it sheer and natural-looking for day.
1. "Apply black eyeliner to the waterline of eyes by wiggling pencil into roots of top and bottom lashes."
2."Curl lashes and layer two coats of mascara to top lashes only."
3. "Work a lustrous cream blush into the apples of the cheeks; blending out and up towards hairline."
4. "Polish off the look with a metallic pink lipstick."
5. "To seal your foundation, try using a mattifying powder. This will give a beautiful contrast to the shiny metallics."
Photo: Topshop Beauty
Shop The Products:
Style It With:
Play up your metallic makeup with some equally shiny accessories. Pair a pretty summer dress with a pair of statement sandles and a carry-all bag.
Night Look: Fuss-Free Freckles
"I love freckles; they are so endearing. Whenever I create freckles for shoots or fashion shows, I use brow pencils in a range of hues and if necessary gently pat with my ring finger to soften."
Begin with your go-to foundation routine. Keep makeup light for buildability.
1. "Prep for a dark eye by applying a brightening undereye concealer. This will give you an edge without the raccoon look."
2. "Swipe an illuminating highlighter on the high cheekbones for an instant glow."
3. "Lightly pat a powdered blush directly onto the apples of the cheeks."
4. "Starting at the inner corner, line eyes with a black eyeliner pencil by dragging out and up, creating a dramatic wing. Line the lower lash line and waterline, connecting the cat-eye."
5. "Keep lips understated with a nude lipstick."
6. "Using the a freckle pencil, apply faux freckles starting on the bridge of the nose, moving down and out onto the cheeks."
Photo: Topshop Beauty
Shop The Products:
Style It With:
What better to pair with an over-the-top winged eye than a leather skirt and a pair of killer heels? Adding a buttoned blouse adds the refined touch you need without looking too stuffy.