Soap Stars: Getting Clean Has Never Been This Glam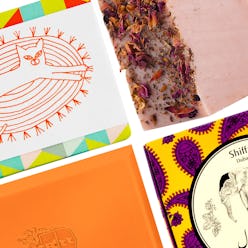 Sometimes things serve a purpose and sometimes we like to have a piece around just because it's pretty. We really love when an item checks both boxes like this selection of fancy soaps we're obsessing over. The gorgeous packaging may make you swoon, but don't be fooled, these beautiful bathroom accessories are more than pretty, they're also super functional. So while many of these are almost too lovely to use, we suggest you actually do let the suds flow. Click through for a few of our favorites.
Soaps that are almost too pretty to use—almost.
Most Eco-Conscious
Formulated without parabens, phthalates and synthetic dyes–as well as other harsh chemicals–this soap keeps skin (and your conscience) clean.
Best Presentation
Embellished with an evil-eye charm, this soap keeps away bad vibes and dirt and grime.
Most Luxe
We love anything Hermes (who doesn't?), especially when they make something so simple so beautiful. Take your fashion sense–and sense of smell– into your shower with this power trio.
Best Scent
With the fresh, invigorating scent of grapefruit mixed with peppermint, this soap is the perfect pick-me-up for lazy Monday mornings.
Most Beautiful
Embellished with organic rose petals and infused with organic buttermilk powder, this bar is as pretty as it will make your skin look.
Best Exfoliator
Slough off dead skin cells with this all-over bar that not only brightens your complexion but also minimizes the look of pores over time.