SPOTLIGHT: STYLE YOUR LIPS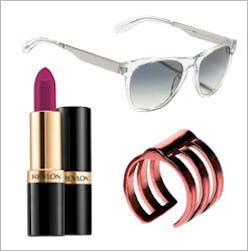 We kindly interrupt your fall shopping to focus on another crucial part of the season: your beauty look! Complement your fashion-forward style as fast as you can reach in your handbag with one of these on-trend lip color and accessory combos.
Super Lustrous Lipstick in Espresso Plum Velour ($7).
Pair an on-trend fuchsia pout with clear sunglasses and a cage ring.
Super Lustrous Lipgloss in Fatal Apple ($6)
Up the ante of everyday attire with runway-redy lipgloss, cat-eye shades and crystal stud earrings.
Super Lustrous Lipstick in Fabulous Fig ($7).
Set the bar for fall beauty with this vampy-as-can-be lipstick, round sunglasses and a leather wrap bracelet.
Super Lustrous Lipgloss in Pinkissimo ($6).
Sometimes you want to let your girly side show, in which case this pretty pink shade (+ a crystal statement necklace and floral frames) is perfect!