Prevent Summer Mascara Meltdowns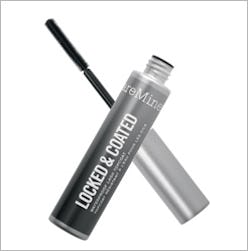 There's nothing less flattering than melted eye makeup running down your face as a result of the brutal summer heat (thanks a lot, Mother Nature!) To solve this ongoing beauty dilemma, BareMinerals created Locked & Coated, a waterproofing lash topcoat.
Though we're constantly trying new formulas, sometimes we're just not willing to part with our most beloved mascara—which is exactly why we love Locked & Coated! Simply apply on top of your favorite lash enhancer to lock in the color, then swim, sweat or surf to your heart's desire knowing it'll stay put. Dub Locked & Coated your summer makeup savior to enjoy lush, smudge-free lashes all season long!
Availability: BareMinerals Locked & Coated Waterproof Lash Topcoat ($12).