Lipstick Shades To Match Your Shades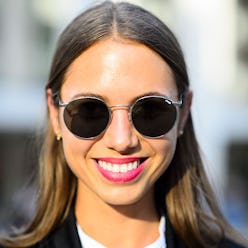 With our favorite summer holiday coming up (think: fireworks), we bet you'll be spending a lot of time in the sun this weekend. Whether you have a backyard BBQ or a day by the pool on the agenda, make sure to attend in style and—as always—to protect your eyes from the sun. Here, shop our favorite colorful sunglasses that protect your peepers and the bright lipstick shades they pair perfectly with.
Power Couples
Photo: Adam Katz Sinding
Citrus Hues
Pair a fresh yellow and white pair of sunnies with a bright orange lip.
Berry Shades
A translucent pair of deep red frames paired with a purply pink lipstick looks sophisticated and summery.
Pink Pairing
Pick a pair of round sunglasses in a bright pink and match it with an equally bright and flirty lipstick.
See-Through Shades
Complementary colors like teal and coral look so good together. Take it up another notch by pairing translucent sunglasses and a sheer lipstick together.
Classic Combo
Give the classic oversized-sunglasses-and-red-lipstick pairing an update with a set of mirrored cobalt lenses.
Modern Match
Add a feminine touch to a pair of unisex sunglasses with a berry red lipstick.