Meet Your New Cosmetic Visionary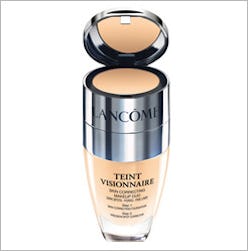 While BB and CC creams successfully hydrate and rejuvenate tired, summer skin, an occasional desire for the complete coverage of a foundation can outweigh the dreamlike benefits of these crafty creams. As if Lancome read our beauty-obsessed minds, they've done it again with their game-changing, two-in-one skin-perfecting potion, Teint Visionnaire.
Never known to pass up the invitation to partake in seasonal outdoor activities, our complexion has seen better days, queue: dryness, skin discoloration and fine lines. Equipped with an ample amount of silky foundation and a top pot of creamy concealer, this dreamy duo gives distressed, summer skin a run for its money. Providing excellent coverage with reviving benefits, Teint Visionnaire includes key ingredients found in Lancome's skin correcting Visionnaire Serum. With a reputation for reversing the not-so-glam effects of age and environmental factors, we're entrusting this twosome with full control over our summer skincare regimen.
Availability: Lancome Teint Visionnaire Skin Correcting Makeup Duo, $60