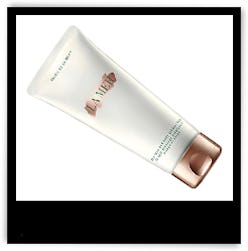 Now that spring is officially in session, we're on a double-duty mission: not only do we intend to secure a glowing visage this season, but we also plan to protect our skin from the harmful effects of the sun. As if they read our minds, the experts at La Mer unleashed their first in-sun collection, and it delivers! Today, we're featuring one of their three new luxurious concoctions: The Face and Body Gradual Tan.
Lavish and deeply reparative, our selection du jour allows for a radiant, sun-kissed appearance while releasing strong anti-aging benefits and defending the skin against environmental aggressors. With UVA and UVB protection, this luscious lotion revitalizes and nourishes the skin during sun exposure, not only preventing future harm but also mending past damage. Looking to secure a luminous complexion while keeping your skin safe? Try La Mer Soleil de la Mer 's brew to give your skin a little extra help in the face of sun and sea!
Availability: La Mer The Face and Body Gradual Tan ($85). For additional information, visit Cremedelamer.com.
P.S. Want to look like Kate Moss? We all do! Now you can channel her glamorous beauty style with the help of our new favorite Rimmel products.