Beauty Secrets From A Korean Skincare Expert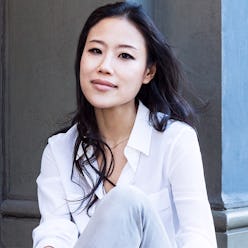 Peach and Lily is one of our favorite go-tos for a highly curated assortment of the best in Korean and Japanese products. Unsurprisingly, the site's cofounder, Alicia Yoon, has endless knowledge when it comes to the world of beauty. Here, get her rules for staying gorgeous and shop some of her favorite products.
Have A Routine—And Stick To It
"Consistency is key. It's important to find a skincare regimen that works for you–one that addresses your skin needs and one you can stick to every morning and evening."
Photo: Courtesy
Don't Be Afraid To Mix and Match
"I can't live without pure organic argan oil. I have very dry skin, so I mix it with my serums and body lotions and use it everywhere."
Be Creative
"I do this thing I call the sheet-mask sandwich. I take a sheet mask and use as I normally would. Then—instead of peeling it off—I lift it gently and apply a serum onto my face and pat my sheet mask back on to seal the serum in. I love the instant glow I get after I do this."
Photo: @aliciayoon212
Never Stop Experimenting
"I spend a lot of time curating beauty products for Peach and Lily, so that keeps me constantly experimenting with them. I'm currently testing Kat Burki Vitamin C Intensive Day Cream and NK Cell to Cell Essence."
Always Be Prepared
"At any given time, you can find any of these in my bag: a cushion compact, lip gloss, eyeliner pencil, hand cream and uka nail oil–I use it on my lips, dry patches, fingers, nails, and I even sometimes dab on my wrists or neck to freshen up when needed."
Photo: @aliciayoon212
Know When To Spend
"I constantly splurge on serums, ampoules, face oils and essences. These are all formulated so that the active ingredients are intended to be absorbed by the skin and go to work for you. Also lash extensions save so much time getting ready in the morning, and my lashes never look clumpy."
Photo: @aliciayoon212
Know When To Save
"I tend to save on creams and moisturizers. These are really intended to create a barrier to seal in serums. As long as it feels great on and smells good, I don't use pricey creams unless I'm testing them."
Photo: @aliciayoon212