6 Next-Level Face Masks You Need Right Now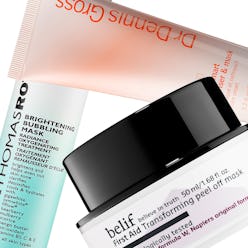 Sometimes keeping up with our skincare routine can feel like a chore (we've lost count how many times we've been too lazy to get out of bed and wash our face before going to sleep). Here, these 6 game-changing face masks take the monotony out of your daily routine and get you excited about cleaning your face again. From ones that turn into rubber to others that change color, these masks are all you need to give you that glow back.
Behind The Mask
Rubber Mask
Loaded with pearl and kelp extract (yup, seaweed), this powder-to-rubber mask detoxifies and brightens skin.
Syrup Mask
Once you get past the appearance of this dark, syrup-like texture, this mask–which contains 6-year-aged ginseng–works wonders on dull, tired skin. The pulsing and tingling just means it's working.
Color-Changing Mask
This double-duty face mask and cleanser is more like a science experiment than a cleansing routine. When used as a cleanser, this product changes color on the areas that are squeaky clean–now you know what spots you missed.
Oxygen Mask
Give your skin a healthy glow and diminish the look of fine lines by infusing it with oxygen. Apply this gel treatment onto skin and in 10 minutes, it transforms into a sudsy foam. Rinse it off and skin will be instantly plumped and hydrated.
Peel-Off Mask
This 3-step mask deep cleans and leaves skin moisturized. Apply a thin layer and let dry completely, apply water to create an easy-peel-off gel.
Carbonated Mask
This carbonated, charcoal mask is powerful enough to remove blackheads in minutes. It goes on like a thick clay and turns into a fizzy texture, leaving skin detoxed and brightened.