Here's Why Everyone's Talking About Knotless Box Braids
Zöe Kravitz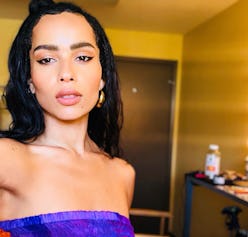 Women of color are known to harness the spirit of originality, dreaming up creative ways that'll keep their natural hair looking its absolute best. In other words, trading in everyday maintenance with simpler, easy-to-care-for protective styles isn't just another "cool" trend — but rather a lifestyle they've adopted, perfected, and held extremely close. Knotless box braids are a new part of that lifestyle.
Read more: How To Lay 4C Edges All Day Long — Even When It's Hot Outside
"Within [the Black community], braiding hair is very much a right of passage. The art and skill of braiding is observed, taught, and passed on generation to generation," braid expert Kamilah or @mshairandhumor, tells The Zoe Report. "This sharing between generations is where we are all linked, making braids an integral part of our community and form of expression."
Today, traditional, individual three-strand braids have taken on many new forms — including the popular "knotless" style seen all over Instagram and YouTube. While it's hard to pinpoint exactly where they originated, Kamilah says two things are certain: they came on the scene in urban cities (think: New York, Dallas, Atlanta, and L.A.) roughly five years ago and originated out of a pressing interest to better protect natural hair. Now, thanks to social media, knotless box braids are everywhere.
"It makes sense that this technique is growing in demand during a time when women are embracing their natural hair and educating themselves more about product ingredients," she continues. "I personally have been doing [knotless braids] since 2016 after a client requested braids and said she 'hated the huge knot at the base.' They're the next natural step in ensuring that safer styling practices are available."
Alongside this "newfound respect for natural hair," knotless braids are painless, feather-light, and lay flat to the scalp, which is intentionally done to help enhance the density and length of your natural hair, Kristal of @braidsbykristal says. "Women of color are demanding healthy hair — especially from braiders."
Depending on your stylist and the specific look you're wanting to achieve, install should cost and take the same amount of time (four to six hours) as other braids, Kamilah notes. But compared to box braids in particular, she says you can rest assured that your delicate edges will remain intact since knotless braids are known to put way less tension on the scalp.
And because knotless braids are typically done in smaller sections to keep the braid sturdy, there's also less ghastly oil, dirt, and product buildup at the root — which Kristal says is common with other types of braids and can cause irritation. To get the look, make sure that your hair is washed, conditioned, and blow-dried before visiting your stylist who will have a rat tail comb, gel or edge control, and your choice of synthetic or human extension hair ready to go.
As far as upkeep is concerned, Kamilah recommends wiping your braids down with apple cider vinegar once a week to remove any residue. Tiffany Drysdale-Lombardo, founder of Knotty NYC, tells The Zoe Report that having a water-based moisturizer handy to spray on your strands is key as well as "oiling the scalp every four to seven days with your favorite oil and wrapping your braids up with a silk scarf or bonnet at night." A foaming mouse for sheen and edge control to ensure your baby hairs stay laid are both good ideas, Kristal says, but remember they "can cause build-up in your braids if used too much, too often."
Lastly, if you're fighting the temptation to keep your knotless braids in longer than four to six weeks — don't. "I advise my clients to put the health of their natural hair first. Anything beyond this puts the hair at risk for damage, especially if the client is not properly maintaining their style," Kamilah warns.
Ready to see what all the hype is about? Ahead, keep scrolling to check out seven fierce knotless braid hairstyles!
Soft Pink Ombré With Gold Details
Filigree beads and metallic twine add some extra "umph" to these jumbo plats.
Messy Bun
Kamilah notes on Instagram that loose high buns are her most requested style once the braids are complete.
Cropped '90s Bob
An ode to Brandy's iconic 'do is always appreciated.
Geometric Parts
Pristine geometric parts for the win!
Top Knot With Neon Accents
If you're not completely sold on all-over color, a few strands of your favorite neon(s) is a solid idea.
Half-Up, Half-Down With Jumbo Braid
Creating a "double braid" is a chic day-to-night option.
Blonde Highlights
Mixing two or three different blonde hues gives this style some added dimension.