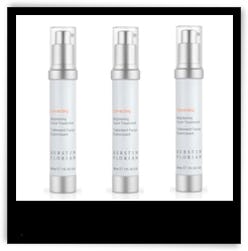 Sometimes it's the smallest pleasures in life that cheer up our days the most, and that's certainly true of our beauty buy du jour: Kerstin Florian's Brightening Facial Treatment. Just a tiny tube of this miracle-working mix will not only brighten up your priming routine but also your visage.
A powerful blend of skin-illuminating botanicals and Acti-5 Brightening Complex, today's fabulous concoction works to restore clarity and visibly fade dark spots. Kerstin's treatment will grant you immediate radiance and, with continued usage, also inhibit melanin production, deliver brightness to uneven skin and diminish the appearance of fine lines and wrinkles. Don't be shy to incorporate this magical mélange into your beauty arsenal for a luminous complexion that will light up every room!
Availability: Kerstin Florian Brightening Facial Treatment ($120). For additional information, visit Kerstinflorianusa.com.