Get Soft, Pretty Paws Courtesy Of Kai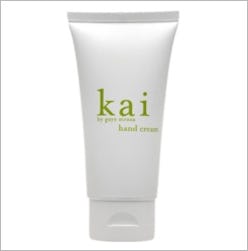 With the long awaited joy of retiring your lightweight jackets for something a bit heavier come the dreadful effects of blustery fall weather (enter dry, chapped hands—so not fans!). Here to keep your paws silky smooth and hydrated all season long is a newly launched, travel-sized hand cream from Kai. Not only do we swear by the skin-salvaging effects of this powerful potion, it smells pretty killer, too!
Expertly fashioned in a non-greasy formula and packed with shea butter and major moisture, hands down Kai's conditioning cream is precisely what you need in your handbag today.
Availability: Kai Hand Cream ($19).