Jessica Alba Shares Her Beauty Rules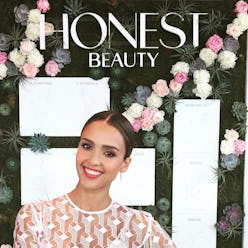 If anyone knows the ins and outs of the beauty world, it's entrepreneur and founder of The Honest Company and Honest Beauty, Jessica Alba. With a passion for all things natural, the author, actress, social media maven and mother of 2 is truly a woman who does it all—and looks flawless in the process. Here, she shares her beauty rules for looking and feeling gorgeous. If it makes us look like her, we're all ears.
Rule #1: Keep It Simple
"If I had to describe my beauty M.O. in 3 words, they would be: Healthy. Happy. Hydrated."
Rule #2: Pick Favorites
"Whether I'm doing a 5 minute face or a red carpet moment, it all begins with my Honest Beauty Everything Primer."
Rule #3: Great Skin Is The Foundation For Any Beauty Look
"I'm obsessed with skincare, so I'm always looking for the next Korean beauty innovation: Bring on the hydrating masks, serums and cleansers!"
Rule #4: Do It Yourself
"I make a leave-in conditioning hair mask using avocado, olive and coconut oils. Mash up 2 avocados with a cup of olive oil and apply just to ends of hair (not at the roots.They'll get too greasy). Wrap your hair in a towel and sit in the sun or under a hair dryer for 5 to 15 minutes—heat helps the moisturizing Omega-3 fatty acids penetrate even deeper. Rinse out with cold water and your hair will be extra shiny and silky soft."
Rule #5: Be Prepared
"There are 6 items I always have with me: Honest Beauty Magic Balm, Honest Beauty Concealer Duo, Honest Beauty Créme Blush, Honest Beauty Truly Kissable Lip Crayon, Honest Beauty Truly Lush Mascara + Lash Primer, Tweezerman Eyelash Curler."
Rule #6: Show Your Natural Beauty
"I'm over rainbow-colored hair. I want to see free, natural, long, loose, undone hair with tons of texture. Think mermaids on the beach, not at the club."
Rule #7: Know What You Like In A Fragrance
"I'm obsessed with fragrance. I'm am constantly hunting for scents made with essential oils and safe ingredients. The ones I keep returning to are Foxglove by Joya and I [heart] New York by Honore des Pres."
Rule #8: Know When To Splurge
"I splurge on facials from Shani Darden and her Retinol Reform for everyday maintenance. For the record, I'll also pay anything for any laser, any light, any ultrasound, any time. I'm in love with Tria's gadgets because they make professional treatments easy to do at home whenever I want."
Rule #9: Know When To Save
"I'm all about a multi-purpose product when it comes to saving dollars and time. My grandmother was all about that and now I am, too. I love using Honest Beauty Créme Blush for lips and cheeks or our Magic Balm as a highlighter and moisturizer."
Rule #10: Be Inspired By The Past And Present
"When it comes to my beauty icons, it's about every '90s supermodel: Cindy, Naomi, Linda, Christy, Helena, Stephanie, Kate, and so on. Today, I think music artists are the new muses—I love SZA's hair and freckles!"
Rule #11: Know Your Signature Shades
"I'm into Priti NYC nail polishes in nude (my favorite shade is Lady of the Dawn) or navy (Crystal Palace)."