Get Glitter Eyes a la Jason Wu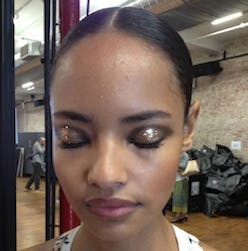 We're four days into the madness that is fashion week, and with that has come a myriad of gorgeous runway beauty looks. But there is one that particularly stands out in our minds: the rose-gold glitter lids seen on the models at Jason Wu.
The focus feature in the face created by major makeup artist Diane Kendal, which sought to complement the fluidity of Wu's show, the luxe lids brought shimmer to the picture in a tasteful, I-wanna-try-that kind of way. Sure to be a huge hit come spring, the dazzling look is also ideal for filling your forthcoming holiday sparkle quota. So, why not master the scintillating stare now? Follow Kendal's expert example and you'll be twinkling in no time.
How To Get A Rose-Gold Glitter Gaze:
1. Line and blend your lids with Lancome's Le Crayon Khol in Black Coffee.
2. Layer over the first shadow using the golden taupe shimmer shade in Lancome's Shadow and Liner Palette in Bronze Amour.
3. Add pro rose-gold glitter (after it has been lightly dipped in water) just in the center of the eye lids so it doesn't take over.
4. Draw on Lancome's Artliner in Noir (very close to the lashes), then sweep on a few coats of Hypnose Star Mascara.
5. Complete the look by brushing out your brows and securing them in place with a clear brow gel.