Banish Your Breakouts On The Go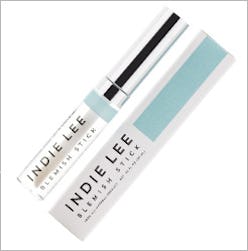 Breakouts in the summer may be our least favorite thing—nothing ruins our heavy face makeup hiatus like an unsightly blemish of the "concealer mandatory" variety. Upon discovering Indie Lee's Blemish Stick, however, we've found our pesky seasonal breakout's ultimate match.
Battling a bout of blemishes since February's fashion week (yikes!), one of our editors put the Blemish Stick to the test to find favorable—and fast—results. Spots? Sizably smaller. Redness? Nearly eradicated. Morever, Indie Lee's formula is 100% natural, which satisfies our eco-conscious souls. Throw it in your purse for on-the-go treatment, and enjoy a summer full of spotless skin!
Availability: Indie Lee Blemish Stick ($28). For additional information, visit IndieLee.com.