Iconic Hairstyles And How To Wear Them Today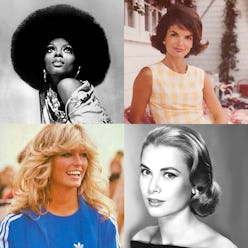 There is nothing more powerful than a signature hairstyle. It's how you present yourself to the world and how others recognize you. Although you can change the color or cut in a matter of minutes, sticking to a specific look is what defines you. See our top five icons and their unforgettable hair for inspiration on finding your own signature style.
Farrah Fawcett
This iconic feathered look had women with all hair types reaching for their blowdryers in the 70's.
Photo: @dugacsek
Now: A Bouncy Blowout
A full blowout always looks on trend, sophisticated and pulled-together. Blowdry with a round thermal brush, paying extra attention to lifting at the roots and curling at the ends. For true Farrah inspiration, have your stylist give you loads of layers. This will give you extra volume and incredible bounce.
Photo: Street Peeper
Diana Ross
The original diva inspired women from all walks of life to ask for more volume, more texture and more form than any other celebrity of all time.
Photo: Getty Images
Now: All-Natural Volume
Diana was always ahead of her time; case in point, the gorgeous afro. After shampooing and conditioning hair, blowdry with a diffuser and seal your look with a natural argan oil. Don't be afraid of big volume; the bigger the hair, the closer to heaven!
Photo: @curlyculture
Grace Kelly
Never with a hair out of place, Grace's slicked-back style was a go-to look in the 50s.
Photo: @cupfuloftrinkets
Now: Slicked-Back
There's nothing sexier than a woman who owns all the features of her face without hiding behind her do. Add a straightening mousse to wet hair and blowdry at the roots by pulling hair straight back with your fingers. Don't pay too much attention to the ends. They should look natural; like you just woke up like this.
Photo: Courtesy of DKNY
Jackie Kennedy
A trend-setter in every way, Jackie always had the perfect flip in her iconic bouffant.
Photo: @chelseaefinn
Now: The Edgy Bob
Jackie showed us how to rock volume like a pro but for a more modern look, have your stylist chop hair at blunt, even length. This makes your ends look fuller and gives you some edge. Add a protective heat spray before straightening and parting in the middle.
Photo: Vanessa Jackman
Veronica Lake
The queen of old-Hollywood glamour, Veronica, showed us how to wear insanely gorgeous bombshell waves.
Photo: @simonabreazu
Now: Old-Hollywood Waves
Beautiful bombshell waves will always be in style, but if you are craving an update, try embellishing your look. After waving your hair with a set of large rollers, shape the style to frame your face and pin in one-inch increments.
Photo: Courtesy of Zac Posen