I Tried This Injectable For The 11s Between My Eyebrows and Here's How It Went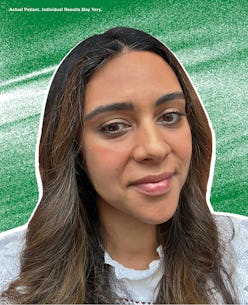 A lifetime of giving people my signature side eye eventually caught up with me a few years ago. My glabellar lines, or 11s as they're called, started bothering me every time I looked into a mirror. That small piece of real estate between the eyebrows would unfailingly catch my attention, but by the time I decided to take the plunge and do something about it, life kept getting in the way. I got pregnant and had my baby right at the start of the pandemic. All of a sudden, fixing my 11s didn't seem so critical.
Two years of pandemic life with a baby that needed around the clock care, however, also didn't help. Instead of the mild furrowing that used to bother me, I now found myself with a mini perma-scowl on my brow. I startled myself several times when I looked into a reflection, because I seemed to be frowning when I wasn't. My husband kept wondering what he had done wrong every time I looked his way. I actually felt the muscles above my brow had grown bigger and were a bit bulgy. It was time for an intervention.
I visited Dr. Claire Wolinsky, a board-certified dermatologist at Berkowitz Dermatology in New York City, for advice. She explained that getting a neuromodulator such as Dysport (abobotulinumtoxinA*), a prescription injection approved to temporarily smooth the frown lines between the brows, was the way to go. Since Dysport is approved specifically to treat moderate to severe glabellar lines by reducing the activity of certain muscles, and delivers natural-looking results, it sounded perfect for me. I didn't want to completely freeze my forehead—I still wanted the ability to treat deserving candidates to a "lite" version of my impressive side-eye—and Dysport ticked that box. (*Please read full Important Safety Information, including Distant Spread of Toxin Effect Boxed Warning, at the bottom of the page.)
Wolinsky explained that the 11s are a highly requested area for treatment. During the pandemic and with a rise in online work, she came across a lot of patients who complained about their "Zoom" face, which is typically the shadows between the brows. "It's an area I think is very important to treat not only for aesthetic reasons, but also because the 11 lines emote anger or unhappiness," she explained. "Many patients come in saying that their kids tell them they look angry when they don't feel angry."
The most common side effects of Dysport are nose and throat irritation, headache, injection site pain, injection site skin reaction, upper respiratory tract infection, eyelid swelling, eyelid drooping, sinus inflammation, and nausea. See the bottom of this article for more important safety information, including Distant Spread of Toxin Effect Boxed Warning.
I was concerned that I had waited too long and permanently etched frown lines into my face, but Wolinsky told me to relax. "When the lines are already apparent at rest and the wrinkles are etched in, there is still an opportunity to help them from worsening," Wolinsky explained. Additionally, repeated uses of Dysport are safe and the effectiveness is comparable to the first use.
The injections themselves were a breeze. Wolinsky asked me to frown hard (my last full-powered hurrah!) and I got one injection into five points between and above the eyebrows with a tiny needle. I barely felt the pricks. I had over-prepared and brought a stress ball, but Wolinsky handed me a buzzer-like massager instead for distraction. I kept pressing that into my thigh and it was over before I knew it. At two minutes at max, it met and exceeded the definition of minimal downtime.
Wolinsky had mentioned that injection site reactions such as bruising, bleeding, pain, swelling and redness would be temporary, but I didn't get any of those. She also said patients infrequently get a slight headache after neuromodulator injections, which I did experience.
I was also asked not to lie down or bend over for an extended time-frame for four hours after getting injected and to avoid airplane travel for 24-48 hours. Facials and lasers are also out for two weeks after neuromodulator treatments.
Another reason Wolinsky likes Dysport, is that it is fast-acting [1-3‡]. The effects kick in pretty quickly, typically appearing two to three days after treatment [1-3‡]. It's also quite long-lasting [2-4†]. "The product wears off slowly, so movement and wrinkles return very slowly over the months after treatment," Wolinsky says. This tracks with what Dysport has found, that 95% of users [II] were satisfied with only two treatments per year [5**]. I was super relieved to hear that, as I would much rather not perform constant maintenance.
However, the results could convince me to do even that. In two days I started noticing it was smoother between my eyebrows and scrunching it up was more difficult. After five days, my muscles could move, but only up to a certain point, in an unexaggerated frown. I still look natural and expressive, just not like a mime. Dysport estimates that 97% of users [II] thought their results looked natural, 98% would get Dysport again and more than 95% of users [II] agreed they appeared refreshed and felt confident, attractive, and happy after treatment [5§#**]. It's hard for me to argue with any of that, in fact I wholeheartedly agree. It sounds counterintuitive, but I think my outward appearance is now more reflective of my moods than it was before. I feel rejuvenated and look fresher, less like a tired mom and more like myself after a 14-day beach vacation with an alternate day massage schedule.
†GL-1 and GL-3 evaluated subjects for at least 150 days following treatment. Based on a ≥1-Grade GLSS improvement from baseline utilizing data from two double-blinded, randomized, placebo-controlled pivotal studies (GL-1, GL-3) in a post-hoc analysis.
‡A secondary endpoint based on Kaplan-Meier estimates of cumulative rate of time to onset of response. The median time to onset of response was 3 days in GL-1 (Dysport 55/105 [52%], Placebo 3/53 [6%]) and GL-2 (Dysport 36/71 [51%], Placebo 9/71 [13%]), and 2 days in GL-3 (Dysport 110/200 [55%], Placebo 4/100 [4%])
#Subject's satisfaction and self perception reported 3 weeks after treatment (n=531).
IIUsers = clinical trial subjects.
**Subject-reported at 12 months (N=120) after two treatments six months apart in a phase IV, multicenter, prospective study.
§3 out of 10 FACE-Q questions about psychological function are shown.
References
Data on file. GL-Y-97-52120-085 (GL-2) Clinical Study Report. Fort Worth, TX: Galderma Laboratories, L.P., 2007.
Data on file. GL-Y-97-52120-719 (GL-1) Clinical Study Report. Fort Worth, TX: Galderma Laboratories, L.P., 2007.
Data on file. GL-Y-97-52120-718 (GL-3) Clinical Study Report. Fort Worth, TX: Galderma Laboratories, L.P., 2007.
Data on file. MA-35497. Post Hoc Analysis. Fort Worth, TX: Galderma Laboratories, L.P., 2017.
Data on file. 43USD1802 Clinical Study Report. Fort Worth, TX: Galderma Laboratories, L.P., 2020.
Important Safety Information
What is the most important information you should know about Dysport? Spread of Toxin Effects: In some cases, the effects of Dysport and all botulinum toxin products may affect areas of the body away from the injection site. Symptoms can happen hours to weeks after injection and may include swallowing and breathing problems, loss of strength and muscle weakness all over the body, double vision, blurred vision and drooping eyelids, hoarseness or change or loss of voice, trouble saying words clearly, or loss of bladder control. Swallowing and breathing problems can be life threatening and there have been reports of death. You are at the highest risk if these problems are pre‐existing before injection.
These effects could make it unsafe for you to drive a car, operate machinery, or do other dangerous activities.
Do not have Dysport treatment if you: are allergic to Dysport or any of its ingredients (see the end of the Medication Guide for a list of ingredients), are allergic to cow's milk protein, had an allergic reaction to any other botulinum toxin product, such as Myobloc®, Botox®, or Xeomin®, have a skin infection at the planned injection site, under 18 years of age, or are pregnant or breastfeeding.
The dose of Dysport is not the same as the dose of any other botulinum toxin product and cannot be compared to the dose of any other product you may have used.
Tell your doctor about any swallowing or breathing difficulties and all your muscle or nerve conditions such as amyotrophic lateral sclerosis [ALS or Lou Gehrig's disease], myasthenia gravis, or Lambert‐Eaton syndrome, which may increase the risk of serious side effects including difficulty swallowing and difficulty breathing. Serious allergic reactions have occurred with the use of Dysport. Dry eye has also been reported.
Tell your doctor about all of your medical conditions, including if you have surgical changes to your face, very weak muscles in the treatment area, any abnormal facial change, injection site inflammation, droopy eyelids or sagging eyelid folds, deep facial scars, thick oily skin, wrinkles that can't be smoothed by spreading them apart, or if you are pregnant or breastfeeding or planning to become pregnant or breastfeed.
Tell your doctor about all the medicines you take, including prescription and nonprescription medicines, vitamins and herbal and other natural products. Using Dysport with certain other medicines may cause serious side effects. Do not start any new medicines while taking Dysport without talking to your doctor first.
Especially tell your doctor if you: have received any other botulinum toxin product, such as Myobloc® (rimabotulinumtoxinB), Botox® (onabotulinumtoxinA), or Xeomin® (incobotulinumtoxinA), in the last four months or any in the past (be sure your doctor knows exactly which product you received), have recently received an antibiotic by injection, take muscle relaxants, take an allergy or cold medicine, or take a sleep medicine.
Common Side Effects
The most common side effects are nose and throat irritation, headache, injection site pain, injection site skin reaction, upper respiratory tract infection, eyelid swelling, eyelid drooping, sinus inflammation, and nausea.
Ask your doctor if Dysport is right for you.
You are encouraged to report negative side effects of prescription drugs to the FDA. Visit www.fda.gov/medwatch or call 1-800-FDA-1088.
Please see Dysport Full Prescribing Information including Medication Guide at DysportUSA.com.