My Dull, Dry Skin Is No Match For These Hydrating Face Masks
This complexion is quenched.
@shanidarden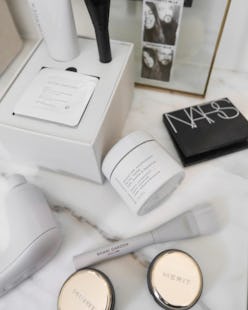 We may receive a portion of sales if you purchase a product through a link in this article.
I like to think I'm someone who has their life in order. At least, from an admin perspective. My iCal is always up to date with my work meetings, personal appointments, and even social plans, all of my bills are on autopay, and I even restock my kitchen essentials like olive oil and almond milk before they're completely empty. But no matter how organized I try to be, I'm not on top of tweaking my skin care routine for the season ahead until it's too late. In the case of winter, that means I'm fighting the good fight against dullness and tightness because I didn't start using a rich moisturizer before the temperatures started to dip. Thankfully, hydrating face masks exist.
These supercharged treatments are stacked to the brim with nourishing, reparative ingredients like squalane, shea butter, and hyaluronic acid, which instantly smooth and plump my face while simultaneously working to rebalance my moisture levels for the long run. Even better? Some of these formulas are even dual-purpose, so they can be used as a rinse-off mask for a quick boost or an overnight treatment. The choice is yours, or if your life is timed down to the hour like mine, you'll be able to fit in a masking session.
Ahead, my favorite hydrating face masks for jumpstarting dull, tired skin during the colder months.