How To Style French-Girl Bangs For Fall, According To A Hairstylist
This bang style has stood the test of time, and can be surprisingly easy to style for fall.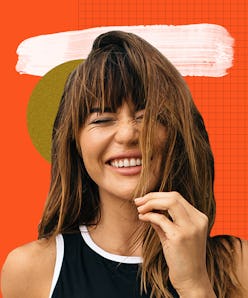 Tousled, effortless bangs — a.k.a. French-girl bangs — are a quintessential beauty tradition from across the pond, up there with excellent skincare products and sleek chignons. Also known as bottleneck bangs, you can think of them as curtain bangs that have gotten a chic makeover. "We've seen the fringe come in and out of fashion for decades," says Shelly Aguirre, a professional stylist based in Chicago. "It's a hot look for fall."
Part of the unending popularity of French-girl bangs is their ability to work for anyone and everyone. "The look can be worn with most face shapes and all hair textures," Aguirre says. Right now, there are two main ways to wear French-girl bangs. "For fall, I'm seeing more of the bangs being worn straight down, or slightly split in the middle like a curtain bang," Aguirre says. Whichever you choose, the styling remains the same — it's just a matter of whether you choose to part them.
To style them, start by drying the roots first; consider prepping hair with a heat protectant, like Briogeo Farewell Frizz Blow Dry Perfection Heat Protectant Cream, to minimize heat damage, and reach for a hair dryer like Dyson Supersonic hair dryer, which dries hair quickly while using less extreme heat.
Then, "depending on the hair texture and desired look, you can use a flat brush or a round brush," she says. If you have wavy or curly hair, she recommends the flat-wrapping technique: This involves using a larger paddle brush, such as Drybar The Lemon Bar Paddle Brush, to dry the bangs back and forth, brushing them in one direction and then another (all while concentrating the hair dryer's airflow at the roots).
Next up, "switch to a round brush to give some volume or shape," Aguirre says (we like Revlon One-Step Volumizer Original 1.0 Hair Dryer and Hot Air Brush). A word to the wise: Try not to allow your bangs to roll under as you're doing this. French-girl bangs are famously straight, and while they can have a soft bend if that's your natural hair texture, they shouldn't look curled.
In fact, for an extra-straight look, finish it off with a straightening iron, like BaBylissPRO Nano Titanium Ultra-Thin Straightening Iron (which is slim enough to get close to the roots). "Don't use too much tension with the flat iron," says Aguirre. "It's just to polish the hair and make it look shiny." Finally, she recommends spritzing French-girl bangs with a hairspray, such as Not Your Mother's She's A Tease Volumizing Hairspray to give it some hold.
Ultimately, French-girl bangs are a great, low-effort way to immediately and easily take any haircut to the next level. And with styling this easy, there's no reason not to give them a go. Book an appointment at Ulta Beauty's Hair Salon now for this season's hottest cut.