How To Get The Perfect Cat-Eye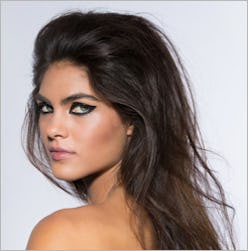 In the first installment of our fall beauty series, Team Zoe's resident makeup guru Joey Maalouf created a sultry, sharply-winged eye that's begging for evening wear this autumn. Get the look and expert tips below—and thank us when you garner the attention of all your suitors!
Hello, Bombshell!
A heavily-lined eye was all the rage on the Fall '13 catwalk, from Anna Sui, Lanvin, Tracy Reese and beyond! Gleaning inspiration from the runway, Joey created his own version of the look.
Key Products:
Make Up For Ever Full Cover Concealer ($32), Guerlain Cils d'Enfer Maxi Lash Mascara ($30), Marc Jacobs Beauty Magic Marc'er Precision Pen ($30), Hourglass Femme Rouge Velvet Crème Lipstick in Grace ($30)
A Felt-Tipped Liner = Cat-Eye Perfection
Using a felt-tipped liner for this look is key! Joey weighs in: "What's great about the marker is you can literally just tap it onto your skin going from the outside of the eye to underneath the brow. That then serves as a mark to simply trace on top of—fill it in and make it really perfect." Just like that, a flawless cat-eye!
Work The Waterline:
A fully-rimmed eye is a happy one! To make the look extra bold, bring the marker as close into the waterline as possible—the resulting geometric shape draws major attention to your peepers!
Top Tips To Make Your Liner Pop!
A special tip from Joey? "Try putting a white liner underneath the black (on the bottom portion of the eye), then blend it into the skin and fade it out." This contrast, when done properly, accentuates the hard lines of the cat-eye shape and serves as an added boost so the look achieves full drama.
Don't Forget Mascara:
Though the liner takes front and center for this look, two coats of Guerlain's mascara will complement the cat-eye. Joey advises that since "the look is so severe and black, you should be minimal on your lashes—no curling necessary."
Complete The Look:
As Joey advises, "a modern approach [to completing the cat-eye look] is to contour the cheek and use a natural lip tone, something in between a color and nude, like Guerlain's lipstick in Grace." Finish it off with some va-va-voom locks and BAM—instant bombshell!
Shop more felt-tipped liners:
Yves Saint Laurent Effet Faux Cils Shocking Felt-Tip Eyeliner ($32), Maybelline Eye Studio Ink Pen Eyeliner ($8), NYX Curve Eyeliner ($15), Le Metier de Beaute Precision Liquid Eyeliner ($42)