How To Find Your Perfect Nude From Valentino Beauty's New Coveted Lipstick Collection, According To A Pro MUA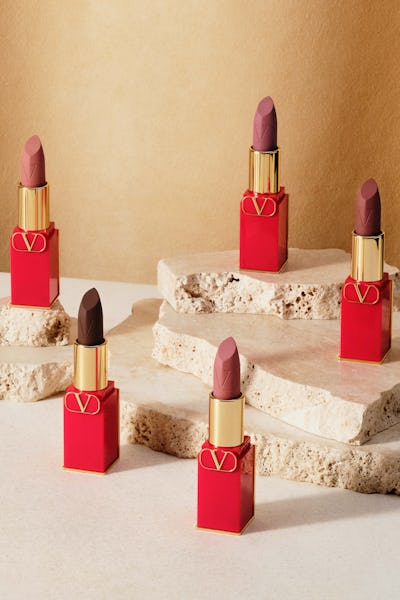 Much like certain wardrobe staples (think jeans, blazers, and the perfect little black dress), a great nude lipstick has the power to transform your entire look. Knowing this, Valentino Beauty spent ample time getting their brand-new Nude Rosso Valentino lipsticks just right—and not only that, but ensuring they stood out from existing formulas on the market by adding their own unique touches. "At Valentino Beauty, nudes are intense; there are no boring beiges here," explains the brand's national professional artist, Karoline Karakeosian.
"We believe that wearing nudes allows your personality to intensify and we see color as a language where each hue is deeply connected to a mood or an emotion."
Of course, when it comes to any color product—be it foundation, concealer, or even red lipstick for that matter—taking one's skin tone into account is key. Fortunately, as Karakeosian points out, there's a nude shade for everyone in this line, so whether your complexion is ultra-fair or melanin-rich, you can trust that you'll find a color that suits your skin tone flawlessly. With that said, to help you find the perfect Valentino nude, we tapped Karakeosian for her expert advice on the matter. Ahead, her tips on choosing the perfect shade for your skin tone—plus, why Valentino's Nude Rosso lipsticks are the only neutrals you need in your rotation from here on out.
Undertones Are Everything
"Finding the right nude lipstick is very important but can be tricky [because] you want to make sure it compliments your skin tone without making you look dull or washed out," explains Karakeosian. To determine whether a shade will suit you or not, it's crucial to know your skin's undertones, and don't worry—it's not rocket science. "A great tip to know your undertone is understanding how your skin reacts with sun exposure," says Karakeosian. "If your skin easily burns and turns red, you most likely have cool undertones; if you burn first, then tan, you likely have neutral undertones; and if you easily tan, you most likely have warm undertones."
Looking at the veins on your wrist in natural light is another helpful technique you can utilize to decipher your undertones. For instance, if your veins look green, you likely have warm undertones, while if they're blue or slightly purple, you're probably cool. Have a combination of both? Chances are you fall into the neutral category. Whatever method you choose, make sure you're up to snuff on your skin's undertones before selecting a nude shade for yourself. Trust us when we say it can make all the difference.
Selecting Your Go-To Shade
Valentino Beauty went out of their way to make the selection process simpler for people shopping for nude lipsticks. "We streamlined and labeled our Rosso Refillable lipsticks by undertones," explains Karakeosian. "R stands for Rosso or cool/pinky and A stands for Ambra which is warm/golden." When it comes to choosing the most flattering nude for you, simply opt for the lipstick undertone that best-matches your skin. For instance, as Karakeosian notes, if you have neutral undertones, both warm and cool shades can work for you. For those with fair, light, and light-medium skin tones, she advises choosing light nude-pinks and mid-toned mauves. And for olive, tan, and deep complexions, she recommends anywhere between mid-tone mauves to deep-brown nudes.
From the Nude Rosso selection, specifically, Karakeosian says two of her favorite shades for tan to deep skin tones are 199A Deep Nude and 120A Nightfall Nude. "Both have a gorgeous brown-pink nude undertone that compliments deep skin perfectly," she explains. "Shades 108A Living Nude, 112R Blushing Nude, and 123R Falling For Nude are beautiful for anyone with fair, light, and light-medium complexions."
The Rosso Valentino Difference
There's no arguing one of the best parts about these luxe lipsticks is the refillable feature. Not only is it amazing for sustainability purposes, but it also allows you to switch up your shade based on your mood. And who doesn't love having options?
Shades aside, the formula is super long-wearing with a soft-matte finish that leaves lips smooth and velvety—never dry or flaky. "They're infused with hydration," says Karakeosian, courtesy of all-star ingredients like vitamin E, dimethicone, and bergamot fruit oil. As for what else sets these high-end lipsticks apart? "The Rosso Valentino bullet is designed for definition and formed into a V on either side of the bullet to line lips," explains the brand's pro artist. This allows for seamless application, without the need for a separate lip liner or a dedicated lip brush.
"For a precise application of color, start at the cupid's bow by applying in a V shape, then glide outward over lips," says Karakeosian. "And for a soft hint of color, dab some onto the center of your lips and blend out with your fingertip. "
Photography by Ryan Jenq; art direction by Angela Poccia; makeup by Elizabeth Lerman; prop stylist: Marina Bevilacqua; VP Branded Design: Jill Sabato; Branded Beauty Director: Irma Elezovic; production: Nancy Valev.