How To Do A Dramatic Side Part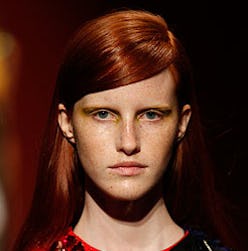 We've already discussed how to get an undone braid, but today we're talking about another statement hairstyle from the spring runways: the deep side part. Spotted at both Jil Sander (pictured) and Prada, the sleek 'do is a great way to add subtle, cool interest to your outfits. Follow these no-fuss steps by Guido, Redken's Creative Consultant who helmed the Jil Sander hair, to get a low-pony version of the look:
How To Get A Deep Side Part:
1. Apply Redken's Satinwear 02 Prepping Blow-Dry Lotion to damp hair.
2. Blow-dry hair with a round brush to create a polished finish.
3. Apply a small amount of Redken's All Soft Argan-6 Oil to tame frizz and add shine.
4. Create a deep side part.
5. Gather hair into a loose low ponytail, securing a hair tie at the nape.
6. Pull out some pieces around the face to soften the look.