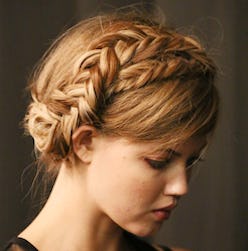 One of the most eye-catching hair trends spotted on the spring 2014 runways (so far) is the youthful crown braid. Rocked by the models at both Rebecca Minkoff (left) and Nicole Miller (right), the angelic-cool look lends a fresh update to playful and more sophisticated ensembles alike. Now, you can translate the runway trend into reality by following the steps head TRESemmé stylist Jeanie Syfu used at the Rebecca Minkoff show!
How To Get An Undone Crown Braid:
1. Prep damp hair with TRESemmé 24 Hour Body Foaming Mousse and rough dry.
2. Create a messy zig-zag side part, from the hairline to the center of the nape and clip to separate.
3. From the heavier side of the part, take another zig-zag section behind the ear and clip, to create three separate sections.
4. Back brush hair for texture and create a ponytail in each section, positioned behind the ear.
5. Tease lengths of hair and spray lightly with TRESemmé 24-Hour Body Finishing Spray.
6. Create a 4-strand braid with each ponytail and fasten with an elastic.
7. Wrap braids around the top of the head, tucking the end of the braids under and fasten with bobby pins.
8. Finish with TRESemmé Fresh Start Color Care Dry Shampoo for a matte, undone look.
Tools needed:
-Teasing Brush -Clips -Blow Dryer (ahem, we recommend this one) -Small clear elastics -Bobby pins -Hair pins