How To Be A Dolce & Gabbana Bombshell In Real Life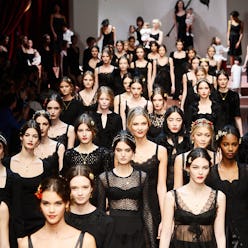 What is it about the Dolce & Gabbana models that make us want to trade everything to be an Italian beauty–even if just for a day? Is it their perfectly winged cat eye liner, romantic chignon or flawless ruby lips? The answer: it's a combination of all of the above that makes a full crown, diamond encrusted headphones and a baby on your hip look alla moda. Here, find out how 4 simple beauty routine tweaks can take your look from basic to bella donna.
Rules To Live By
Photo: Getty Images
Wear Multiple Lipstick Shades Together
A subtle-yet-sexy ombre lipstick gives even more dimension to your lips. Start with a classic red on the entire lip and blot a darker shade only in the middle.
Photo: Courtesy of Dolce & Gabbana
Part Your Hair Down The Middle
A center part is so European, not to mention effortless and cool. Loosely pull hair into a low chignon and secure with bobby pins. Skip the hairspray altogether–flyaway pieces give it character.
Photo: Getty Images
Always Wear Winged Liner
The cat eye is classic and has always been the go-to look for Dolce & Gabbana. What's their secret? Keep the flick long and thin–this elongates the eye, without looking like heavy eye makeup.
Photo: Getty Images
Pile On The Hair Accessories
Pull hair into a messy bun and accessorize with roses and gold pins. Add drama by pairing them with an equally beautiful headband or–if you're feeling royal–a gold crown. Dolce & Gabbana has taught us that there's no such thing as too much.
Photo: Getty Images