How To Avoid Wrinkles With Face Patches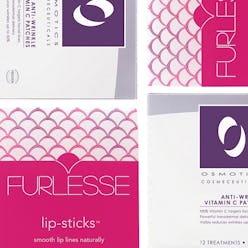 Women do the craziest things to get younger-looking skin and rid themselves of wrinkles: Needles in the face, human-placenta masks and electric facials are just a few of the not-so-fun procedures that come to mind. Sure we all want smooth, supple skin but what if you just don't have the time–or the courage–to sit under a bright light and come face-to-face with scary-looking tools? Luckily, terrifying treatments aren't the only options these days. Rid yourself of maddening crow's-feet, laugh lines and forehead wrinkles at home with face patches. Yes, face patches! Here, a few of our favorite ways to look younger sans torturing yourself.
Wrinkles, Be Gone!
Forehead
Use this patch treatment made especially to treat forehead lines once a week for 30 minutes. Hyaluronic acid, peptides and antioxidants improve the appearance of wrinkles in as little as 4 weeks.
Forehead And Lips
Moisturize skin while boosting collagen production with this antioxidant-packed mix of glacial water, copper, ginseng and tomato (seriously, we weren't expecting tomato either but it's true).
Lips
Smile lines are evidence of a well-lived life, but that doesn't mean they make us happy. These latex-free and hypoallergenic patches are great for even the most sensitive skin.
Eyes
Treat tired, puffy peepers instantly while reducing the appearance of fine lines over time via these leaf-extract and antioxidant-packed gel patches. Get extra soothing power by placing them in the fridge 10 minutes before putting them under your eyes.
Eyes
Get rid of crow's-feet naturally with this product that guarantees results in 30 days. Seeing is believing, but with 144 patches for less than the price of most lunches, it's certainly worth a try.