Holiday Nail Polish Sets To Add To Your Wish List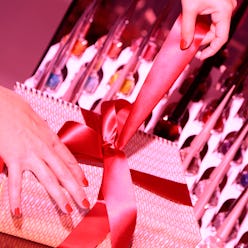 The thing about beauty-obsessed girls is that they can never get enough of a good thing. Read: nail polishes. Thankfully, the holidays brings with it a slew of adorable nail polish sets packaged in such a cute way, we can't get our perfectly manicured hands on them fast enough. Click through for some of the best sets of the season. With these gorgeous collections under the tree, you'll never run out of polishes again (not that that was ever a real possibility, but still).
The Best Nail Polish Sets Of The Holiday Season
Photo: Courtesy of Christian Louboutin
15-Piece Luxury Lacquer Music Box
24-Piece Travel Polish Pods
20-Piece Tackle-All Trunk
24-Piece Advent Calendar
22-Piece Paint Bucket
Bonus: The Collection Of Our Dreams
A collection of all 33 Christian Louboutin Beauté shades so exclusive, it's only available by invitation to premier customers and VIPs. The price of The Pops, The Nudes and The Noirs all housed in their own Loubiville city display is a whopping $2,100.
Looking to spend that holiday bonus? Inquire through Christian Louboutin's customer service.
Photo: Courtesy of Christian Louboutin