5 Highlighters That Make You Glow Instantly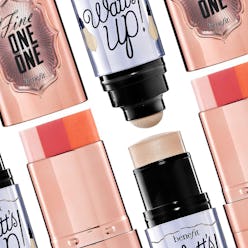 If you're looking for a daily dose of radiance, look no further than these 5 ultra-illuminating highlighters. Stock up on the most luminescent formulas and banish lackluster winter skin forever. There's no excuse for you to not shine­–even if you are stuck in a snowstorm.
Shine On
The Stick
Highlighter sticks are perfect for adding a swipe of shine on the go. Use the sponge on the other end to buff in the highlighter and look like you were born with that glow.
The Powder
Powders are great for building layers which means you can decide how much (or how subtle) you shine. Choose one that is matte to avoid looking too sparkly.
The Cream
Use your fingers to apply cream highlighters on the cheekbones, cupids bow, brow bone and bridge of the nose. The product emulsifies with the warmth of your fingers and really sinks into skin leaving behind a natural, youthful glow.
The Liquid
The best part about liquid formulas is that it can be mixed with your foundation or face cream to give you an all-around glow.
The Balm
The creamy formula and mix of colors in this highlighter stick make it easy to apply and give you a dewy flush while adding a hint of shine to your cheekbones.