Draw Attention To Your Digits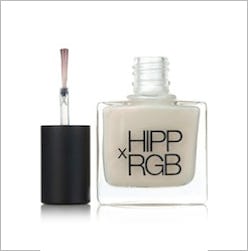 It's back-to-school season, and while we're sure you've already stocked up on highlighter pens, we'd like to introduce you to another type of highlighter: one for your nails.
According to Jenna Hipp, the nail highlighter's creator and celebrity nail stylist (she's lacquered just about every starlet in Hollywood), her new formula focuses on awakening those digits with targeted illumination for radiant and healthy-looking nails…just like a highlighter for the face. By now, you're probably wondering how this brightening beauty product works. We'll let Hipp enlighten you: "the multi-dimensional pigments apply like 'liquid light' and reflect — this boosts your complexion with a subtle glow." And Hipp's super simple solution for last-minute manis? Toss some highlight on your bare nails for "a subtle, yet effective all-over boost of luminosity." Trust, we can't keep our hands off the shimmering new shellac.
Availability: RGB x Hipp Nail Highlighter ($20).