What Happened When I Tried A Full-Body Skincare Routine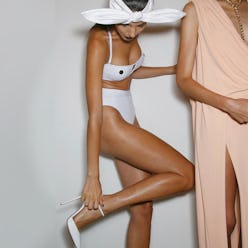 I'm diligent with my skincare routine—like really diligent. If you haven't already learned from my past stories, I wash my face with three cleansers back to back. I start with an oil to melt off my makeup, continue with an exfoliating cleanser to slough off dead skin, then finish with a detoxifying cleanser to make sure that I got everything. Once I pat dry my face, I follow up with a toner, then a serum, before an oil and moisturizer. I apply a mask weekly and have a couple of anti-aging devices on rotation. Some might consider it obsessive or neurotic, I just see it as relaxing and necessary. The point I'm making here is I take really good care of my face—notice I didn't say my skin.
Face Savers
As much as I pride myself on my healthy complexion, I must admit I slack on everything from the neck down. I know it sounds weird, but most days I skip the body lotion altogether. I hate the feeling of lotion—it's either greasy or too scented, and it irritates my legs post-shave. I'd rather be slightly dry than have itchy, red bumps.
The bizarre thing is that I can put anything on my face and never experience a breakout. Most people are more sensitive on their face than their body. I seem to be the opposite. I've wondered what would happen if I were to use my face products head to toe. Of course it would cost a fortune, but it'd certainly be a step up from my drugstore body lotion. Maybe my problem is that I've never ventured away from my $10 moisturizer. While I love the price, maybe the formula just isn't right for me.
Months ago my facialist told me that I have keratosis pilaris on my arms. It's a super common condition in which the skin produces too much keratin and blocks the hair follicles, causing bumps on the arms, cheeks or thighs. It's not serious or painful, but it makes me feel self-conscious. Since I don't have it on my face, I wonder how I can get my body just as clear. I decide my routine needs a major overhaul.
I challenge myself to stick to a body-care regimen for 30 days, and I start by ordering a ton of products. I exfoliate daily and incorporate a daytime serum, moisturizer and night oil. I immediately notice that I'm not breaking out, nor do I feel greasy or uncomfortable. However, it's taking me longer to get ready in the morning, so I have to force myself to do the routine at night. By the halfway point, I notice that my skin is visibly softer and brighter—even dewy. But the biggest thing I notice is that my keratosis pilaris is calming down a lot, thanks to all the exfoliation.
Body Skin Care Staples
By day 30, my skin is looking amazing and there's not a red bump in sight. As I said, my beauty routine has doubled in length, and truth be told, I've skipped a day here and there. But all in all, my 30-day challenge has turned into a lifestyle change, and I couldn't be happier with the results.