How To Create A Halloween Costume With Your Makeup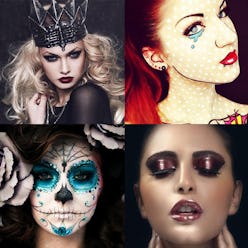 Whether you lack inspiration or are in a tizzy because Halloween snuck up on you (boo!), we have a few fun beauty ideas sure to solve your costume quagmire. From a mythical mermaid to a Bollywood beauty, these fabulously spooky looks will ensure you creep through the spooky eve without looking like a ghoul. With a little creativity and some makeup wizardry, you can create an entire outfit without having to buy a thing (or dig too deep into your closet).
Boo-tiful Makeup Looks
Vampire
This look puts the vamp in vampire. Use metallic reds and copper hues on lips and lids. Complete the look with fake lashes, a hint of peach blush and faux fangs.
Style It With: Give some edge with a black leather jacket and killer heels.
Sugar Skull
Glam up the traditional Día De Los Muertos makeup with glitter and rhinestones. Start with a pale foundation and create intricate designs with marker eyeliners in a variety of colors.
Style It With: Add romance with flowers in your hair and a ruffled white dress.
Comic-book Character
Take Pop Art to a new level with a living canvas. Create dots on the face and décolleté care of a white eyeliner pencil or face paint. Add drama with a red lip and defined eyebrows. Line prominent features with a black gel eyeliner.
Style It With: Be a damsel in a red dress.
Porcelain Doll
Get wide-eyed with white liner that extends below your lower lash line and full false lashes on the top and bottom of eyes. Finish the look with pink cheeks and lips. Create added drama by using black and white eyeliner to draw porcelain cracks on the skin.
Style It With: Go extra-girly with a frilly dress, hair bow and pearl necklace.
Dark Queen
We jump at any opportunity to don a crown and be a queen for the day. Wear a dark shade of red lipstick and create a dramatic smoky eye. Create a high brow arc using an eyebrow pencil.
Style It With: A black dress, piles of silver jewelry, and, if the crown fits, wear it.
Bollywood Starlet
This look is all about a bold red lip and a flawless smoky eye. If you're not willing to commit to a semi-permanent henna tattoo (they last about two weeks), create the illusion with a brown eyeliner pen.
Style It With: Loads of jewels and an embellished red dress.
Mermaid
This look is as easy as a walk on the beach. Start with a dewy complexion, iridescent blue eyeshadow and pink lip gloss. To create the look of scales, place a net over your face and brush blue eyeshadow over it.
Style It With: A pencil skirt and a sequined top. Extra points for seashells in your hair.
Deer
Bring new meaning to the words doe-eyed. Use white liner along the lower lash line and apply fake lashes in sections. Load up on the bronzer from cheeks to the temples and finish with a black nose and white spots.
Style It With: A chic black dress and some deer ears. Don't have those handy? Create the illusion by putting your hair into 2 high buns.
Masquerade Madame
Be mysteriously glam with your costume this year. Place a swatch of lace over your eyes and dust black eye shadow into the holes with a fluffy shadow brush. Finish off the look with red lipstick and black liner.
Style It With: A fancy black dress and elbow-length gloves.