Hairstyles For Thin Hair And Great Tricks To Try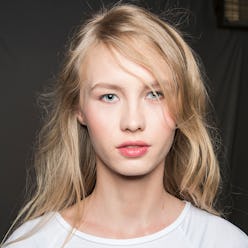 Are you guilty of going to extremes in a quest for a fuller mane (home remedies, vitamins, a regulated diet), only to realize nothing is really working? At the end of the day, your hair type is embedded in your genes so your best option is to learn how to work with what you've got. Here, our tips and tricks for fuller, thicker-looking tresses, plus suggestions on the best hairstyles for thin hair.
Try our game-changing hair hacks for the best locks of your life.
The Updo
Fine hair carries the stigma that it can't be styled because it's unmanageable and too lifeless to work with. Don't be fooled: Thin hair is actually the best kind for that perfectly tousled, undone look.
For an instant lift, tease at the crown and spray with a root lifter. To avoid losing height throughout the day, tie the bottom half of hair into a ponytail and then add the top, teased section to the base afterward, securing it with another tie. With pins, loosely twist hair into a bun and pin on all sides.
Photo: Courtesy of Dolce & Gabbana
Wear It Down
Don't let anyone tell you voluminous Old Hollywood waves are unattainable for the girl with fine hair. You just need to approach them with the right tools and our tried-and-true steps.
Avoid applying heavy creams and sprays that weigh your hair down and opt for a weightless volumizing mousse. Blow-dry hair with a round thermal brush, pulling upwards at the roots and curling at the ends. Starting at the top, section hair and roll into two-inch hot rollers, leaving them in for up to 20 minutes. Release waves and smooth with a boar brush for added shine.
Photo: Courtesy of Moroccanoil
New Cuts To Try
Get an on-trend pixie cut or bouncy bob to give the illusion of healthy, thick hair. Long locks weigh down your look and make ends look damaged.
If you have a thinning hairline, add depth to the front by cutting blunt bangs. If you're afraid to try such a permanent look, opt for clip-on fringe.
Photo: Courtesy of NARS
Mistakes To Avoid
When washing:
Steer clear of scalding-hot water which sparks hair loss by permanently damaging the follicle.
Applying thick conditioners to your scalp clogs the follicle and weighs hair down, leaving it limp and lifeless. Instead, focus on nourishing the ends.
When Styling:
Pin-straight hair gives fine locks the illusion of being even thinner. Spritz hair with texturizers and sea-salt sprays for extra bounce.
A deep side part gives your roots an instant lift. Middle parts won't do you any favors.
Photo: Courtesy of Redken
Thin-Hair Lifesavers
There are a few staples every girl with thin hair should have on hand at all times.
A volumizing shampoo is the best product to start your daily hair routine. Find one that removes oils and product buildup (which add extra weight to your hair) so you can cut down on washes, preserving the life of your locks.
Add a thickening lotion to your hair before blow-drying infuses every strand with moisture while increasing it in diameter.
Hair-building fibers with keratin protein instantly give the look of fuller, thicker hair. Mask any thinning areas by applying this powdery substance to the root.
Photo: Courtesy of Baja East
Try A New Look
Take inspiration from Marc Jacobs' Spring 2015 runway show and try a wig! It's a fun way to constantly update your look and color without damaging your precious tresses.
Photo: Courtesy of NARS