What To Do With Your Hair When It's Hot Outside
AntonelloTrio/IMAXtree.com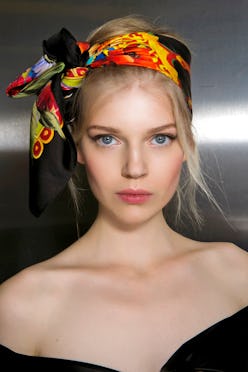 Whether you'll be hanging poolside or dancing in the desert in the coming months, you'll need a few go-to hairstyles to keep you looking and most-importantly feeling cool. Our inspiration will get the hair out of your face and off your neck, all without looking boring. Here, 6 hairstyles for you to wear when it gets hot out.
The Playful Updo
Topknots are the obvious hairstyle for warmer temps but pairing it with a brightly colored scarf is the perfect way to avoid looking basic. Use a vinegar spritz to freshen second-day hair, then use bobby pins to secure hair into a messy bun. Finally, tie a silk scarf around your head with a bow on the side or at the nape of the neck.
The Sleek Ponytail
Never underestimate the power of a tightly pulled-back, high ponytail. To get the look, first apply a serum from roots to tips to add shine and smooth flyaways. Pull hair into a tight ponytail and secure with an elastic. Finish with a hairspray and wrap a piece of hair around the base to hide the elastic.
The New Milkmaid
Sure, we love a good milkmaid braid moment but this spring, try an update on the classic look. Massage a texturizing spray on roots and ends for a lived-in look. Create a deep side part and French braid hair diagonally along the hairline, then pin the rest into a low bun. Use the pointy end of a comb to pull out stray pieces that frame the face.
The Wet Look
There's nothing sexier than a sultry, wet look on a hot day (and it's also a great way to keep from overheating). On wet hair, apply mousse from roots to tips and twist into a low bun. Slide on a stretchy comb headband and spritz with a shiny hair gloss.
The Lazy-Girl Milkmaid
If you're less skilled in the braid department, skip the plaits altogether and opt for a simple twist. Apply a volumizing spray at the roots for an added lift. Starting on one side, twist hair along the hairline (keeping in place with bobby pins). Continue around until you hit your starting point, then pin the rest into a messy bun. Top it off with a sparkly hair accessory.
The Fuss-Free French Braid
Don't know what to do with your hair on vacation? This humidity-proof, shower-proof French braid is liable to hold up for days if you need it to. Use a molding cream to create a tight French braid from the front to the nape of your neck. Using the pick end of a comb, pull hair one plait at a time to loosen the braid and back comb for added texture. Slide on a headband to keep it in place all day(s).