5 Wet-Hair Hacks That Get You To Work On Time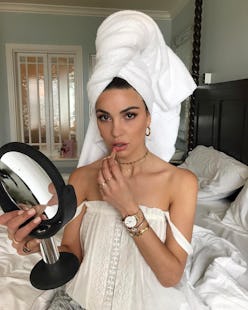 We've all had those days when we hit the snooze button one too many times and are forced to make a crucial hair decision as we scramble to get out the door. If you're anything like us, this can pose a problem when your third-day hair is so limp and greasy that making it presentable is just not realistic—but running out the door looking like a wet poodle is simply unacceptable. Lucky for you, we have some solutions that allow you to step out with clean hair, sans the mess. Ahead, five hacks that will have you looking fabulous in less than five minutes.
Wet But Not Wild
Play Up The Texture
Spritzing your wet strands from roots to ends with a salt spray ensures your hair dries with some beachy texture. Scrunch hair in an upward motion while spraying, then let it air-dry. This helps you get tons of body and pretty, effortless waves as opposed to lifeless locks.
Get Rid Of The Frizz
If you're heading out of the house with wet hair, take a quick minute to apply a shine-enhancing texture balm. On your way to work, run your fingers through your hair in a twisting motion (away from the face). Continue twisting periodically until your hair is dry, and you'll be amazed by how frizz-free and shiny it looks.
Give It A Curl
If you're feeling especially lazy, a few strategically placed buns can do the job. Work a volumizing mousse into damp hair from roots to tips, then place two high buns on each side of your head and two at the back just above the nape of the neck. (The trick is to neatly tuck in the ends to avoid awkward kinks.) Apply heat to the buns with a blow-dryer for a few minutes and let them sit while you finish getting ready. Let them out before you leave the house, and run your fingers through to comb out the curls.
Try A Sleek Style
Never underestimate the power of a sleek low pony or bun. Give your hair a deep side part and smooth it down to the nape of the neck before securing it with a hair tie or coiling the pony into a tight bun. To step the style up a notch, add a fun accessory!
Wear The Wet Look
When in doubt, wear the wet look and own it. Comb a high-shine gel through wet hair into your favorite style (we suggest a deep side part, sleek center part or brushed straight back). This ensures your hair looks shiny and sultry all day long.