The Hair Trends That Are Going To Be Huge In 2016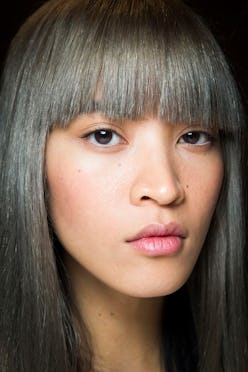 Early on in the beauty bonanza that was 2015, celebs and street-style stars alike took on pretty pastels and granny grays. The year came to an eventful end with hair shades named for galaxy formations and Starbucks' most popular fall drink. And we can't forget about the shaggy, textured lobs that dominated the summer. So what'll be the major hair trends for 2016? We asked the experts for their color and cut predictions.
Kill It In 2016
Tracey Cunningham
"Khloe Kardashian has created a domino effect of brunettes wanting to go lighter. It has made people realize that it can be done in a way that looks beautiful and healthy. However, it's also important to realize that it is a process that also requires maintenance both in the salon and at home.
The blending of highlights and balayage together like Chrissy Teigen, allows you to wear her highlights without having to frequently touch up in-between appointments and creates a seamless look without an obvious line of demarcation between the roots and the ends.
In a world where highlights have taken hold, there is something so refreshing and elegant about having rich, all-over color like Julia Louis-Dreyfus. It makes a statement!"
Adir Abergel
"This is the year of bold haircuts. A vintage-inspired, cheekbone-length bob reminiscent of the classic '20s woman like Coco Chanel and Louise Brooks is going to be big in 2016. It can be worn in modern way with a natural wavy texture. Or try a blunt fringe that hits close to the brows. Models with bangs dominated Spring 2016 runway shows like Saint Laurent and Alexander Wang. These bangs can be worn on any texture—straight or curly."
Marie Robinson
"Color is definitely skewing more natural in 2016. Brunettes should have shades of light brown and caramel blonde woven throughout to create dimension. Pale blondes will also have shades layered in for a more contemporary look, unlike solid bright platinum. Pastels and Pantone-colored hairstyles will have their moment in 2016, too. Cool skin tones can make silver or pale blue look natural. If you are pale with yellow tones, a pastel pink adds a little blush to your skin."
Daniel Moon
"The trend of 2015 was definitely platinum. It will be really popular next year, especially spring and summer, but soft, unorganized highlights are sure to be huge in 2016. Think Amber Heard—effortless and sexy color with attitude. It's a little more worn-looking, a little more natural and much more sultry."
George Papanikolas
"Bronde will continue to be big. It works for blondes who want to go darker but not too dark, and for brunettes who want to go lighter but not too light. It's a universally flattering shade. Combining highlighting techniques will be huge because it gives more variation to the hair. Everyone has seen balayage and babylights, but when you combine both, you have something totally new fun and interesting."
Jennifer Roskey
"I think hair trends in 2016 will go one of two ways: playing up fashion colors, or continuing trends like bronde, balayage and babylights for a more natural look. It depends on the person and lifestyle. I predict blue tints to be especially popular!"
Stay On Trend All Year Long
Discover Box of Style featuring the season's most-coveted fashion, beauty and lifestyle items for only $100 per quarter.