The Funny Truth About The Impossible-To-Master French-Girl Look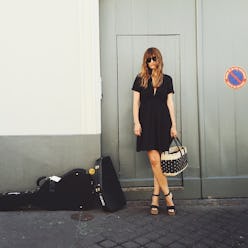 Okay, so apparently we aren't the only ones who believe French girls were just born with a certain je nes sais quoi. You can get the same haircut, wear the same clothes and still not quite nail it. Our friends over at cult site Man Repeller nailed our frustration with this on-point observation:
"Look at that photo of Caroline de Maigret. She has made bangs look cool as f***. Now look at that photo of Matilda. This is what we'd all look like with bangs." Nice to know we're not alone.
Have you ever gotten bangs and actually looked French? Share your secret in our comments below.
Caroline de Maigret (left) and Matilda (right) Via ManRepeller