Get The Showstopping Braid From Suno's Spring 2015 Runway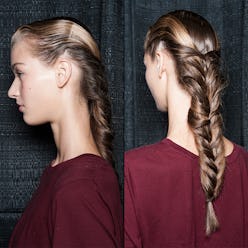 We're obsessed with this stunning hairstyle we saw at Suno's Spring 2015 Fashion Show. Kérastase's Odile Gilbert outdid himself with this creative caged herringbone braid. We wore it around NYC and received so many compliments we thought we'd show you how to get the look.
We teamed up with our friends at DreamDry–New York's premier hair destination cofounded by our EIC, Rachel Zoe–to recreate the fab braid. Follow our step-by-step tutorial for the most on-trend style right now.
Photo: Courtesy of Kérastase
Slick It Back
Start by blow-drying hair for texture and volume and pay extra attention to the hairline by pulling up at the roots for extra lift.
Create a deep side part and apply a strong-hold mousse for shine and hold.
Starting at the hairline, comb hair into an S shape by brushing down then up and pinning into a wave. Spray the wave with an extra-hold hairspray and leave it pinned so it holds its shape.
The Herringbone Braid
Grab a section from both sides behind each ear and split into three strands. Braid this entire section until you have reached the bottom.
Grab two more sections from the sides and create plaits using the first braid as the center section. Similar to a French braid, continue adding sections from both sides into the original braid.
Carry on with this step until you have gotten a quarter of the way down.
Finish With A Fishtale
A quarter of the way down, create a very loose fishtail until you reach the bottom.
Secure with a thin rubberband and be sure to leave ample space between the end of the braid and the elastic. The extra space allows you to add volume to your braid.
Pump Up The Volume
To thicken the tail, pull plaits apart starting at the top of the braid.
Set the look with a shine-enhancing finishing spray.
Lastly, remove pins from sides to reveal a perfectly shaped wave.
The Finished Look
For Daytime: Pair with a fresh face for a straight-off-the-runway look. A touch of BB cream on the skin and a dash of lip balm on the lids and high cheekbones creates a dewy, fresh look.
For Night: A smoky lid and winged liner takes the hairstyle from day to night. Pair the bold eye with a matte nude lip for a sultry feel.